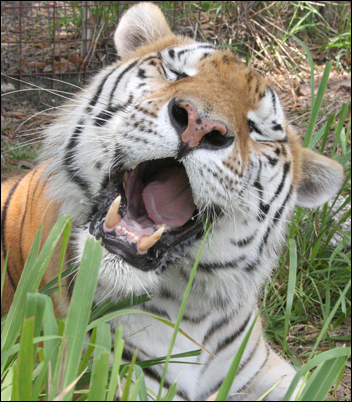 When this bill becomes law it will eradicate 98% of the problem of discarded big cats in this country
Tampa, FL (PRWEB) July 10, 2007
Bo Derek will be appearing at Big Cat Rescue's Fur Ball to receive the Guardian Angel Award for her work to save the tiger. President Bush recently appointed Bo Derek as a special envoy on wildlife trafficking as part of the State Department's new Coalition Against Wildlife Trafficking, which is enlisting help from other countries to fight an estimated $10 billion annual black market in wildlife and wildlife parts, second only to trafficking arms and drugs. The tiger is one of the most persecuted animals due to demands for it as a pet, traveling act prop, backyard trophy, or for its skin and bones for the Asian pseudo-medicinal market.
Big Cat Rescue is celebrating its 15th year as a permanent retirement home to captive bred tigers, lions and other exotic animals who have been used in roadside zoos, circus acts or as kept as pets. This year's annual gala, The Fur Ball will be held Friday, October 12, 2007 at the A La Carte Pavilion in Tampa, FL. The Fur Ball is Big Cat Rescue's largest fundraiser of the year, but more importantly, it is the accredited sanctuary's most prominent platform for raising awareness about the big cat crisis in America and around the globe.
Big cats have had big wins recently. "It began in 2003 with a law to ban the sale of big cats across state lines as pets. Since then eight states, including AR, IA, IN, KY, LA, MD, NY and WA have banned the keeping of big cats as pets. Three countries including Africa, Australia and Ireland and 12 communities in Canada have banned the keeping of big cats as pets. Five countries, including Brazil, Croatia, India, Scotland, the UK and 20 communities in Canada have banned circuses that use big cats in their performances," says Carole Baskin, Founder and CEO of Big Cat Rescue.
But there is much yet to do. Just last week four white tigers were born and died while traveling with a U.S. based carnival. Dr. Ron Tilson, Conservation Director of the Minnesota Zoo and manager of the world renowned Tiger Species Survival Plan, states, "The white tiger controversy among zoos is a small part ethics and a large part economics. The tiger Species Survival Plan has condemned breeding white tigers because of their mixed ancestry, most have been hybridized with other subspecies and are of unknown lineage, and because they serve no conservation purpose. White tigers are an aberration artificially bred and proliferated by some zoos, private breeders and a few circuses who do so for economic rather than conservation reasons."
Big Cat Rescue offers an online service that allows visitors to weigh in on these matters. Haley's Act, which is a Federal bill that would end the use of baby big cats in photo booths and petting sessions was introduced in 2007 and is gaining momentum in Congress. The bill is named for 17-year-old Haley Hilderbrand who was mauled to death at a USDA approved facility while posing with a tiger for her yearbook photo. The bill bans contact with big cats and their babies. "When this bill becomes law it will eradicate 98% of the problem of discarded big cats in this country," says Carole Baskin.
Readers can voice their opinions to their legislators with just a few mouse clicks at http://www.CatLaws.com A short film about this work and the presentation to actress Bo Derek at the 2007 Fur Ball will spotlight the progress and the challenges yet to come.
###