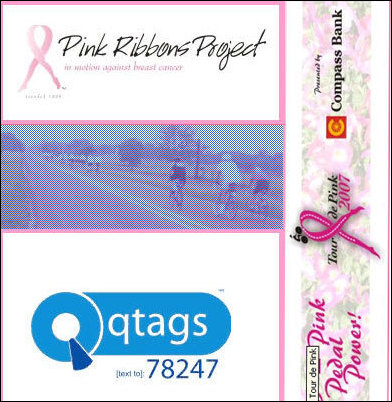 Using the arts, Pink Ribbons Project saves lives and improves the quality of life for those touched by breast cancer.
Houston, TX (PRWEB) July 13, 2007
qtags text is proud to announce its sponsorship of Pink Ribbons Project and its annual fundraising Tour de Pink bicycle ride, presented by Compass Bank.
This year's ride, scheduled for Sunday, Sept. 9, begins and ends on the Prairie View A&M University campus near Hempstead. qtags is providing text keywords as part of the sponsorship and will help Pink Ribbons build a permission-based community and send alerts pre, during and post-ride. The ride's sponsors will also be able to send messages to the ride's participants.
"Adding text-messaging to our ride's communication efforts is a natural evolution for us," said Susan W. Rafte, executive director of Pink Ribbons Project. "We need to make it easy for our audience to remember our efforts and getting news via text messages is easy for everyone."
"We are very pleased to partner with Pink Ribbons Project on the Tour de Pink 2007 bike ride," said Allison Gower, president of qtags text. "Breast cancer affects women from all backgrounds. Pink Ribbons Project works to provide education, outreach programs and survivor support groups, and we share their concerns in all these areas."
The third annual Tour de Pink, presented by Compass Bank, is a family-friendly bicycle ride, with six routes ranging in length from 12 to 100 miles. The ride wraps up with a festival, complete with food, music and live entertainment. Registration for Tour de Pink 2007 is $25 per rider, with a minimum pledge of $75 required. For more information, visit the event website at http://www.tourdepink.org, call 713.524.PINK (7465), or text 'PINK' to 78247.
All donations and pledges will fund breast cancer awareness, education and survivor support programs, and help provide mammograms for underserved women in the greater Houston area. Tour de Pink is the first and only pledge bicycle ride in Texas that is designed to benefit breast cancer outreach and support programs. Pink Ribbons Project has raised more than $450,000 through Tour de Pink for its programs and more than $1 million in total since its inception.
About Pink Ribbons Project
Pink Ribbons Project is dedicated to raising awareness and educating about breast cancer through its programming, and to providing mammograms to underinsured women in the greater Houston area. Pink Ribbons Project Mission is "Using the arts, Pink Ribbons Project saves lives and improves the quality of life for those touched by breast cancer." For publication-ready logos for either Pink Ribbons Project or Tour de Pink 2007, send a request to info@pinkribbons.org.
About qtags, llc
Qtags llc provides Mobility marketing solutions to advertisers throughout the United States, Canada and the Caribbean. Qtags keywords are used to make advertisements easier to remember, to build extremely targeted permission-based groups, to deliver rewards like promotions and coupons, to allow a consumer to order and view rich media content on the mobile phone and on digital displays, to connect to qtags-hosted dot-mobi sites, and to create interactivity with an audience via voting, trivia and feedback text programs. Formed in 2005, qtags' clients include Accenture, NAS Recruitment Communications, Fidelity Investments, Toyota, Scion, Verizon Wireless, Arena-Media Networks, American Express, Shell, Microsoft, Red Robin Gourmet Burgers, Wyndham Hotels, XtraMedium Communications, and Jack Nadel International.
###