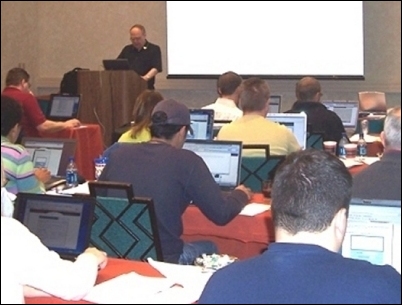 EXCELLENT Workshop w/ EXCELLENT Instructors.
Orlando, FL (PRWEB) July 16, 2007
In a 5-Day SEO Mastery study of search engine optimization, leading SEO industry educators Robin Nobles, John Alexander and Dave Barry bring the latest in hands-on SEO skill building to Orlando Florida this month on July 30 through August 3.
Writer, author and SEO training pioneer Robin Nobles stated this month that, "One of the newest things we have developed in our 5-Day Workshop is a detailed written SEO action plan, which helps each student pinpoint and identify any SEO related issues with their Web sites."
Robin Nobles is a well known writer in the Southern US, who has articles published in places like Danny Sullivan's Search Engine Land, Search Engine Guide, Web Pro News, Site Pro News as well as scores of other popular leading search engine marketing industry publications.
Nobles and her partner John Alexander, who is keyword research forensics expert, have been conducting these Workshops together for over 5 years. The newest Workshop is a very special program limited to just 15 attendees per class. Students cover the full scope of SEO topics but instead of a seminar format, its a hands-on workshop where each student attendee gets personalized instruction in SEO skills, direct from the experts in person. The Workshop includes exercises and drilling in basic and advanced SEO skills with daily evaluations to benchmark each students progress.
John Alexander explains, "The personal SEO action plan is just one of the newest tools we have developed so that each attendee can learn to easily spot and identify the most common SEO related challenges concerning any Web site and then we show them the best way of fixing the issues."
Joining Robin Nobles and John Alexander for this month's July 30 Workshop is Dave Barry. Dave Barry is a technical expert who teaches advanced SEO strategies with Robin Nobles and John Alexander and this month will be teaching some of his high logic SEO methods for increasing dynamic Web sites visibility and profitability by up to 500%.
View the complete 5-Day agenda and SEO certification program here:
http://www.searchengineworkshops.com/workshop_agenda.html
For more information about attending the next SEO Workshop (July 30-Aug.3) please visit:
http://www.searchengineworkshops.com/registration.html
Recent Student Success Stories:
After the 5-Day Workshop, students also get a 6 month mentoring program for ongoing support to ensure they are making the most of their skills. Recent student graduates comment:
"So far, to date, I've got #1 rankings for my important keywords on over 18,500,000 on Google, Yahoo! Msn, and Ask!"
Jason Wencel
------
"EXCELLENT Workshop w/ EXCELLENT Instructors."
Terri Patillo
------
"The knowledge and enthusiasm of the presenters was exceptional. Superb course - with every penny."
Andrew Davis
------
"The SEO Workshop was like looking through the view finder of a camera and finally see things come into sharp focus."
Duncan Seward
For hundreds more student success stories:
http://www.searchengineworkshops.com/testimonials.html
Future dates for August include a 5-Day Complete Workshop in Las Vegas on Aug. 27-31
http://www.searchengineworkshops.com/workshop_dates.html
Robin Nobles and John Alexander also operate the largest chain of live, hands-on SEO certification Workshops in North America with many other localized Search Engine Academy training centers
available throughout US and Canada.
If you are looking for local training from an authorized Search Engine Academy Instructor, there are many other locations to choose from:
http://www.searchengineacademy.com/strategic_partners.html
###