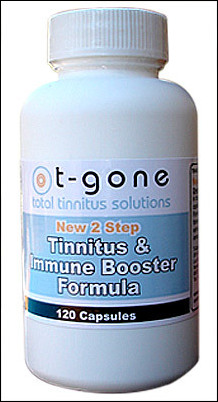 I've had excellent success in treating tinnitus. If we can establish the cause of your tinnitus, I believe we have a very good chance of dramatically reducing the tinnitus levels.
Las Vegas, Nevada (PRWEB) July 14, 2007
Eight years after the launch of their homeopathic tinnitus treatments, John and Ellen Currie of T-Gone Remedies Inc. came up with another breakthrough tinnitus formula aimed to help tinnitus sufferers.
Despite the success in the market of their homeopathic tinnitus remedies, Ellen and John Currie decided to look for other cures. "Over the previous 8 years we have dealt with over 90,000 people suffering from tinnitus. Whilst we have had tremendous success with the majority of these people using our homeopathic tinnitus remedies, we have also had some clients who reported limited success using the remedies." said Ellen Currie, and thus they came up with this 2 Step Tinnitus Relief and Immune Boost Formula.
The 2 Step Tinnitus Relief and Immune Boost Formula is the 4th step in the total tinnitus solution in a nutshell as outlined by Ellen in her comprehensive 120 page "Living Tinnitus Free" tinnitus book which is available as a free download. Ellen said, "Some clients, who had reported limited success with the homeopathic tinnitus remedies has been a major issue for me and I knew I had to develop some additional products to make it easy for our clients to relieve their stress, boost their immune systems, get enough sleep and learn to relax using tinnitus masking techniques."
So why a 2 step formula? This relief formula is taken as a 2-step process. According to John Currie, "You take two clear capsules in the morning and two red colored capsules in the evening." The morning and evening capsules contain the same ingredients, but the evening capsules have added melatonin which is an important supplement for those with sleep deprivation.
The main ingredients of this 2 steps tinnitus relief formula are: Gingko Biloba Extract, Zinc, Beta-Carotene (Natural Vitamin A), Vitamin B12, Vitamin C, Vitamin E and Melatonin (in the red capsule).
According to Ellen Currie, "When I formulated the tinnitus and immune booster formula, I had two things in mind. I obviously wanted to include all the vitamin and mineral supplements needed to boost the immune system but also wanted those vitamins and herbal supplements that have proven success with tinnitus treatment."
Ellen Currie herself was a tinnitus sufferer way back in 1998. She had a very severe case of tinnitus and her tinnitus was affecting life in every aspect you could think of. She had almost given up hope on her tinnitus when she accidentally came across an important information which she got when she took her son who had a chest infection to a doctor.
"I only wanted to ask him for ways to boost my immune system to help reduce my tinnitus," said Ellen. "But the doctor reply took me by surprise." He told me, "I've had excellent success in treating tinnitus. If we can establish the cause of your tinnitus, I believe we have a very good chance of dramatically reducing the tinnitus levels." This news surprised Ellen. "Every other expert I had spoken to was very negative about tinnitus and its treatment," Ellen said.
The treatment that was given to Ellen was Homeopathic medicine. While taking her tinnitus remedies she also started doing some lifestyle changes. She boosted her immune system, ate properly and managed her stress levels. After a few weeks she was able to get her life back and she had never felt better.
Now Ellen says that she is cured of her tinnitus, "I still have tinnitus, but I say I am cured because those incessant ringing in the ear noises that I used to experience have been reduced to such an extent that they are simply no longer a factor in my life."
Ellen and John Currie are determined to help other tinnitus sufferers to be successful in their battle with tinnitus sounds that is why T-Gone Remedies Inc. has continuously been doing studies to be able to provide every tinnitus sufferer the same relief that Ellen has achieved when she won her battle with her tinnitus.
For further information on the Homeopathic Tinnitus Therapy that they sell and the new Total Tinnitus Solution, visit t-gone.com now.
###