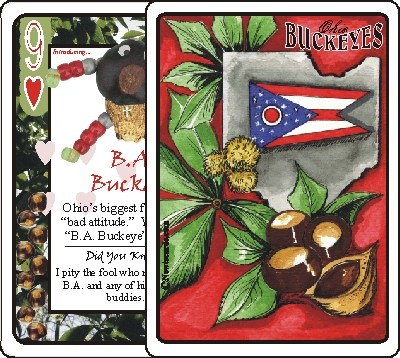 Canal Winchester, OH (PRWEB) July 16, 2007
Newt's Playing Cards has published a deck of Buckeye Playing Cards ($6) which features unique information about buckeyes and what they mean to people within the state of Ohio. From fun plant facts and historical information to crazy folklore and even how to plant your own buckeye tree.
The card back design for the Buckeye Playing Cards (http://www.BuckeyePlayingCards.com) gives you a little taste of Ohio as it highlights the state, buckeyes, its flag and more.
The face of the cards features 54 bits of information about buckeyes. The clubs feature facts about the Ohio Buckeye Tree and other buckeye species. The diamonds have historical information like who is believed to have been the first person to be called a buckeye. The spades highlight sites around the state of Ohio that have buckeye groves or unique buckeye collections. The hearts are more lighthearted with unique folklore and even how to make buckeye candy.
This deck holds true to the historical side of "souvenir" playing cards by using 52 interesting facts and images about buckeyes as they relate to the State of Ohio. The complete deck can be seen online at http://www.BuckeyePlayingCards.com
ABOUT THE PUBLISHER, NEWT'S PLAYING CARDS
Newt's has been selling exclusively playing cards since 2002. Over the years NewtsCards.com has transformed into the playing card portal on the internet offering playing cards from around the world. It is the dream of Newt's Playing Cards to bring back the historical look in to what they call "Real" Souvenir Playing Cards. (http://www.RealSouvenirPlayingCards.com)
# # #