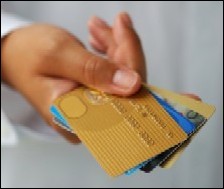 Many consumers end up paying too much in interest because they're not aware of what type of credit card they are best suited to.
Brisbane, Australia (PRWEB) July 17, 2007
Women are more likely than men to accrue credit card debt by not paying their card bills each month. This is according to an online survey of over 1,000 Australian adults conducted in July 2007 by credit card comparison website http://www.Click4Credit.com.au
The 'Click4Credit Credit Card Usage Survey' revealed that only 54 percent of women usually pay their credit card bill in full each month compared to 70 percent of men who do. The result is that almost every other woman with a credit card is incurring interest charges each month.
While young women are often perceived to be the worst offenders in a 'spend now, pay later' society, the study found that those under the age of 25 are no more likely to carry a credit card balance forward from month to month, than older women.
Another concern is that women are also less likely to know the interest rate of their credit card. Assuming the current average credit card balance of $2,811, those consumers not paying their bills in full each month could be incurring $450 in interest charges per year (assuming current average interest rate of 16%).
Richard Greenwood, founder of Click4Credit, said: "Many consumers end up paying too much in interest because they're not aware of what type of credit card they are best suited to." Furthermore "consumers may be drawn towards perks such as frequent flyer rewards, yet may be much better off with a no frills low interest credit card. Rewards credit cards are excellent for those who pay their credit card bills in full each month, but for those who don't, the high interest charges more than outweigh rewards received."
Statistics show that moving to a low interest credit card, such as the St George Vertigo card which offers a purchase rate of 8.99%, could halve interest charges. This amounts to a potential saving of as much as $250 per year for the typical consumer who maintains an average balance of $2,811.
The survey found little differences in credit card usage between Australian states. Approximately 71% of the Australian adults surveyed own at least one credit card, with an average of 2 cards per person.
The research has revealed that while most women feel in control of their financial situation, they find personal finance issues and news boring. This poses a challenge for credit card issuers and the media to make personal finance issues more engaging for women.
About Click4Credit
Click4credit.com.au is an Australian credit card comparison website, which allows users to compare credit cards and apply online from a range of issuers. Features such as interest rates, balance transfers offers and annual fees can be assessed side by side before applying online.
###