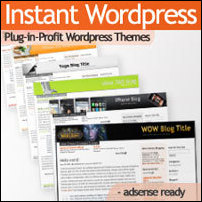 What I'm trying to do is to make life easier for new blog owners who may lack the technical ability to design their own Wordpress blogs
Kuala Lumpur, Malaysia (PRWEB) July 17, 2007
E-commerce entrepreneur and professional blogger Gobala Krishnan announced today the trial launch of his ready-made Wordpress blog themes. According to Gobala, during the beta testing period these themes are available from $1.00 each, with designs to match almost any blog topic.
"What I'm trying to do is to make life easier for new blog owners who may lack the technical ability to design their own Wordpress blogs," Gobala said. His current collection, labeled as "Instant Wordpress Themes" Volume 1, has designs ranging from iPhone ™ and technology themes that appeal to tech bloggers, to World of Warcraft ™ and video game themes that appeal to a huge market on the Internet.
Wordpress is arguably the most popular blogging platform today. Users can either get a free hosted Wordpress blog for non-commercial blogging, or install the software on their own web server to customize and use it for commercial reasons. Users are then free to install and use any blog theme they want, most of which are available for free on the Internet.
"The difference between these themes and what you can generally get for free on the Internet are their simple yet effective design layouts, and the plug-and-play capabilities for bloggers looking to earn money for their efforts," he added. The current ready-made themes are based on Gobala's existing free theme, which is already used by over 2,000 new and established bloggers alike.
"I take what used to be a complex task of installing a theme and adding Search Engine Optimization or Google Adsense placements, and turned it into a copy-and-paste process anyone can understand. All the user has to do is enter his or her unique ID into the theme and everything else is taken care of. The themes integrate nicely with Google Adsense, MyBlogLog and other web based services commonly used by bloggers," he explained.
All themes in Instant Wordpress Themes Volume 1 come with a complete step-by-step user manual and are available exclusively via the Internet. Gobala plans to add more themes in the near future, including seasonal themes like Christmas themes and New Year's Day themes.
The demand for affordable pre-designed or customizable blog themes has been on the rise, as more people step into blogging as a hobby, career or just a way to earn part time cash.
"Most people end up paying between $200 - $1,500 to get their custom themes designed by a web design firm, or on freelance portals on the Internet. At the very least, they now have a more affordable alternative, at just $1.00 per theme", he concluded.
For more information on Gobala Krishnan 's newly launched one-dollar custom themes, visit InstantWordpressThemes.com. He can also be contacted for further inquiries at his Wordpress Tutorials Blog.
###