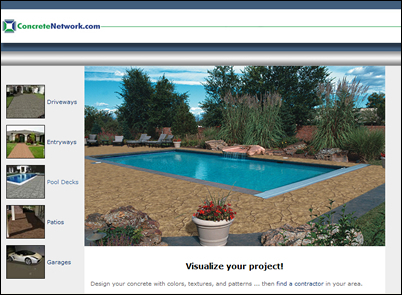 Yucaipa, CA (PRWEB) July 18, 2007
There's no denying that decorative concrete applications are here to stay, but with so many options to choose from, picking the perfect application for an upcoming concrete project can often be an overwhelming task. The Concrete Network, the largest and most comprehensive source for concrete information on the web, offers a new interactive concrete design tool online.
The tool's purpose is to help with the dilemma of sorting through the pattern and color options readily made available by today's concrete artisans. Users can choose from up to 30 photos including driveways, patios, pool decks, entryways and garage floors. Once a surface is selected, users can then choose from various stamping, texturing, coloring and staining options to customize each project.
In a matter of minutes, a custom decorative project is complete, and users are able to visualize their project before a single tool is lifted. With an available print and email option, projects can be sent ahead of time to homeowners and contractors to outline details and expectations of the upcoming project.
This easy-to-use tool is available for free on The Concrete Network Website, and does not require special software downloads.
Established in 1999, The Concrete Network's purpose is to educate consumers, builders, and contractors on popular decorative techniques and applications. These include stamped concrete, stained concrete floors, concrete countertops, polished concrete, and much more. In June 2007 The Concrete Network Website had over 1.2 million visitors researching decorative concrete.
The site excels at connecting buyers with local contractors in their area through its Find-A-Contractor service. The service provides visitors with a list of decorative concrete contractors throughout the U.S. and Canada, and is fully searchable by 23 types of decorative concrete work and 200 regional areas throughout North America.
Visualizer created by Depiction Software.
###