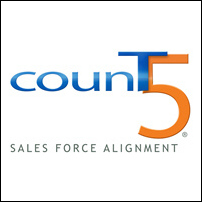 We work with clients in a complex selling environment where trust and relationships are important
Atlanta, GA (PRWEB) July 18, 2007
Count5®, the leader in delivering success to sales initiatives, announced today that it has partnered with consultative selling leader Whetstone Group to provide unique reinforcement support to Whetstone's elite list of global clients.
Whetstone Group is a salesforce development and consulting firm that provides sales training workshops, coaching and tools to a wide variety of global clients in over 100 industries including biotech, healthcare, financial, and commercial insurance. Whetstone's clients focus on high end, complex customer interactions with a heavy reliance on interpersonal trust and relationships. The firm's proprietary consultative sales process, Common Sense Selling®, increases revenue by providing a customized and revolutionary new approach to selling.
Whetstone Group reinforces its Common Sense Selling process with a variety of products published under the Sales Coach brand name including books, audio CDs and interactive computer-based training. Sales Coach Q™, the new collaborative development with Count5, will serve as a value-added extension to the existing Sales Coach programs, delivering follow-up sales coaching and reinforcement to workshop participants every week for one year.
"We work with clients in a complex selling environment where trust and relationships are important," said Jim Dunn, managing partner of Whetstone Group. "There is no magic bullet when it comes to sales. In a typical two-day sales training session, salespeople often walk away with a handful of core concepts they can use. With Sales Coach Q™, the information is broken down into digestible chunks and reinforces the concepts so that people can really change their behaviors."
Count5's patent-pending salesforce alignment software enables Whetstone Group to rapidly create reinforcement and sales coaching objects and automate recurrent delivery to workshop participants long after the initial sales training event. This consistent reinforcement, delivered electronically in bite-sized chunks, accelerates participant retention, accountability, and adoption of the skills, tactics and best practices covered in the sales training workshops. Real time metrics are also provided to frontline managers and executives so individual and team alignment gaps can be quickly identified and addressed.
"Count5 is very pleased that Whetstone Group is using our salesforce alignment solution to accelerate adoption of their programs," said Eric Blumthal, CEO of Count5. "Whetstone's commitment to driving meaningful, lasting change with their customers aligns very well with our solution."
About Whetstone Group
Whetstone Group is a leader in consultative selling. Based in San Diego, California, the firm's clients include leading companies in more than 100 industries that focus on high-end, complex customer transactions and relationships. Through its proprietary sales process, Common Sense Selling®, Whetstone provides individuals and businesses with the sales training, coaching and tools they need to improve their sales and management skills in order to take sales to a higher level and increase bottom line results.
For more information, visit us online at http://www.whetstonegroup.com or call us at 1-800-235-2816.
About Count5®
Count5® improves the speed and success of new product launches, sales strategies and other CRM initiatives by systematically improving salesforce adoption of change. Q, from Count5®, is a proactive, elegant & noise-free software communications channel that inserts the daily discipline of accountability, reinforcement and measurement into ongoing communications & sales training. Unlike alternative technologies, Q is proactive, prescriptive and requires no end-user training. Available OnDemand, Q can be driving a sales initiative in a matter of days.
Count5® was recently named by the Technology Association of Georgia (TAG) as one of Georgia's most innovative technology companies.
For more information, visit us online at http://www.count5.com
###