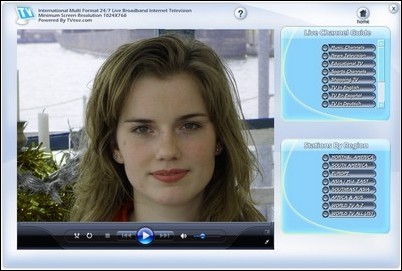 New York, NY (PRWEB) July 19, 2007
TVexe.com is proud to announce the 3 million download mark of our new TV software, TV model 2.0
TVexe.com is one of the world's leaders in on-line TV software with users in over 100 countries. TVexe.com will continue to provide even better services in the future, we already added some new stuff lately, including some extensive radio guides, VOD and much more.
"The 3 million download mark is a very positive sign of the popularity of our flag product TV 2.0. Our goal is to give the users easy access to educational information, entertainment and news sources as well,
we are providing anyone with an unlimited test time, so everybody can enjoy our product, even if they don't have a credit card...I''m also very happy to see such a great response from many people, those loyal users who keeps on using our products as a learning and educational tool. We like to hear the users response, and improve our future products, according to their needs," Said Nir Froimovici, founder of TVexe.com
About TVexe.com's software:
TVexe.com made TV 2.0 as an easy to use television application for every user independent of age or location. Its main goal is: keep it simple...
TVexe.com's TV software has been awarded with over 50 different 'five star' awards from U.S and international shareware and freeware sites.
TVexe.com doesn't include any third party software with its free software. So it also grabbed some "100% Clean" Certification (spyware, adware, viruses) from: Softpedia.com, Cleansofts.com and qarchive.org.
TVexe.com's TV model 2.0 gives the users many choices of TV stations to choose from, either from a specific categories or from a regional lists. The user can sort channels related to sports, news, music, education, and other categories or language.
Price and availability

We are offering TV 2.0 for free download, unlimited try time.
Please visit our site for more info at http://www.tvexe.com
# # #