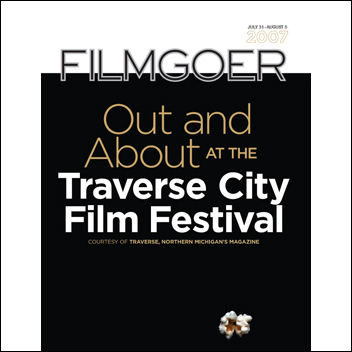 Filmgoer is a fantastic resource--it's like a good friend giving you insider tips
Traverse City, MI (PRWEB) July 19, 2007
Get the inside scoop on the 3rd annual Traverse City Film Festival with Traverse, Northern Michigan's Magazine's free Filmgoer guide, a compilation of festival information alongside suggestions for dining, entertainment and activities in Traverse City. The 14-page guide has all the details attendees need to make the most of their time while "Out and About" at the festival. Copies are available online at traversefilmgoer.com, free at several festival venues (like the State Theater) and by calling Traverse Magazine at (231) 941-8174 for a printed copy ($2.00 for shipping and handling).
"Filmgoer is a fantastic resource--it's like a good friend giving you insider tips," says Emily Bingham, staff writer at Traverse. "Everyone who's attending the festival should check out traversefilmgoer.com so they can plan their time smartly. Go ahead and print out a copy--they're the perfect size to stuff in your purse or daypack and read while the credits are rolling so you'll know where to head after the show."
The Traverse Filmgoer website, which also provides the Traverse City Film Festival Program, is already proving to be a success: Within a week of launching, traversefilmgoer.com had received more than 3,000 unique visitors who are reading an average of 6 pages per person. Additionally, subscribers and newsstand purchasers of the July 2007 issue of Traverse Magazine also received printed copies bound right into the publication.
Inside the 2007 Filmgoer:
Dining
Cherry brownies, apple dumplings, gourmet bistro burgers and more. Plus: Where to find unbeatable breakfasts, beat-the-crowd restaurants, great take-out,
microbreweries, late-night bites and sweet treats.
Activities
The lowdown on un-crowded beaches, quick canoe trips and bike rentals. Day trips to Grand Traverse Commons, wine trails and Sleeping Bear Dunes National Lakeshore. Plus: Great strolls, beach volleyball, parasailing and more.
Entertainment
Our picks for live music, drive-in flicks, baseball games, art galleries and more.
Need-to-Know Info
Our Traverse City Film Festival Navigator has a handy map and information on lodging,
parking, restrooms and accessibility. Read on for details like where to find Film Festival gear, how to handle standby lines, who's got wireless internet, and where to grab sundries you accidentally left at home (aspirin, bottled water, jacket, etc).
Filmgoer, produced by the same award-winning editorial team as Traverse, Northern Michigan's Magazine, is an annual guide to the Traverse City Film Festival. The guide offers ideas, insight and suggestions to help readers make the most of their time in Traverse City and the surrounding area during the Traverse City Film Festival. The free online edition links directly to the places and products readers won't want to miss while in town. Click for more at traversefilmgoer.com.
About Prism Publications, Inc.
Prism Publications Inc, founded in 1981 by Deborah Wyatt Fellows, publishes Traverse, Northern Michigan's Magazine, Northern Home & Cottage, and Destination Northern Michigan, a Northern Michigan travel guide, in addition to Filmgoer and several other print and online publications. Traverse and its staff have won more than a dozen national and international awards for excellence, including most recently a 2007 silver award for general excellence from the City and Regional Magazine Association. Prism has also published Reflections of a Life Up North, a coffee-table book of stunning photography from Traverse paired with a collection of Fellows' columns, which was reprinted in June 2007. Prism Publications is also a proud sponsor of the National Cherry Festival's Cherries D'Vine event on July 8, 2007. The privately held company is headquartered in Traverse City, Michigan. For more information, visit traversemagazine.com or call Traverse Magazine at (231) 941-8174.
###