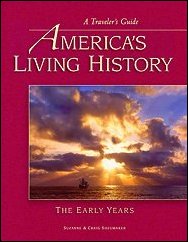 The complexities of life - everyday issues, ideas and relationships - are easier to understand and cope with when viewed from a vantage point outside of ourselves. The past provides not only distance but also perspective
Jackson, CA (PRWEB) July 19, 2007
Parents who take an active role in their children's education - whether through homeschooling, after-school assistance or special activities - should consider using the lessons of history to greater advantage say Suzanne and Craig Sheumaker, authors of the new travel book 'America's Living History-The Early Years.'
Are you a parent trying to guide your children through the ups-and-downs of life and help them find meaning in today's complex world? History travel experts Suzanne and Craig Sheumaker have an unusual suggestion: take a vacation.
Specifically, they recommend taking your family on a history-oriented vacation. While having fun, your children will gain a different view of life, one that can be applied to their own world when you add a little insight. The Sheumakers are authors of the highly praised new travel book 'America's Living History-The Early Years,' and they know firsthand the value of history travel.
"The complexities of life - everyday issues, ideas and relationships - are easier to understand and cope with when viewed from a vantage point outside of ourselves. The past provides not only distance but also perspective," Suzanne notes. "Consider, for example, the idea of sharing. Then look at what the early religious communities achieved. Everyone worked together for the common good, and each member played an important role in encouraging and supporting others," Craig adds.
Use History Travel To Teach Life Lessons
Whether you home school your children or take an active role in their education outside of school, there are many ways you can use history travel to help your children understand and deal with contemporary life. Consider the following techniques and examples:
Choose a Topic.
Are your kids interested in the Revolutionary War? Visit Valley Forge National Historical Park, northwest of Philadelphia, PA. Much more than a beautiful park, it is an ideal place to explore life lessons such as the value of hard work, personal commitment and being part of a team. Walk inside replicas of the log cabins that soldiers built for themselves. Which ones were suitable for the harsh winter and why? Visit the Isaac Potts House, which served as General George Washington's headquarters. Why did individuals and families vacate their homes for army officers? Learn about the winter of 1777-1778 and a Prussian baron who came to teach the army. What simple lessons altered the course of America's fight for independence?
Choose a Theme.
Consider, for example, the process of finding a direction for one's life. Abraham Lincoln had a very difficult start on his path to becoming America's sixteenth President. A great place to learn his story is Lincoln's New Salem in Petersburg, IL. New Salem was a commercial village - what might be viewed as a forerunner of modern shopping malls. Lincoln came here to work after leaving home. He needed to make his own way in the world, but he knew little about what he could do, let alone what he wanted to do. Eventually he found the answers in New Salem. Ask your kids: Why did Lincoln try so many different jobs? Why were the people in this community so important to him? What were the personal and social experiences that changed Lincoln's course in life? How did he go on to achieve his goals?
Choose a State or Region.
Historical places bring the past to life, making real what can only be imagined through books, movies and the Internet. Wherever you travel, visit the national and state historical parks, historic landmarks and living history museums. Apply your parenting skills to take advantage of educational activities, such as interpretive programs and living history demonstrations - not just by watching the goings-on but also by teaching your children a few key messages. For example: discuss the strength of community, the importance of a job well done and the power of religious beliefs. These three lessons can be explored on a vacation in northeastern Kentucky, where you can visit Old Fort Harrod State Park, Fort Boonesborough State Park and Shaker Village of Pleasant Hill - all within driving distance of Lexington.
How To Find The Right Places
The new travel book 'America's Living History-The Early Years,' by Suzanne and Craig Sheumaker, provides an easy-to-use starting point for history-oriented family vacations. It is loaded with 500 color photographs, historical information on 300 premier destinations, regional travel maps and tourist details. The destinations are grouped by chapters in early U.S. history and further organized by topics. Under America's Native Peoples, for example, are ancient remains, rock art and centuries-old villages. Under European Colonization are Spanish, French and English attractions. Under Religious & Secular Groups are the places of Huguenots, Quakers, Shakers, Amish, Moravians, Catholics, Jews, Mormons, Amanas and others. The second half of the book focuses on a wide variety of destinations related to the Road to Independence, Our New Nation and Opening the West. This unusual travel guide is available online and in conventional bookstores. Autographed books are available direct from the authors via Red Corral Publishing at http://www.AmericasLivingHistory.com ISBN: 978-0-9792598-0-7
For additional ideas, download free 'In the Spotlight' travel articles published by the Sheumakers on the website AmericasLivingHistory.com. The first of these is Illinois Historical Places, issued July 12.
Contact:
Suzanne Sheumaker
209-295-5582
redcorralpub @ aol.com
###