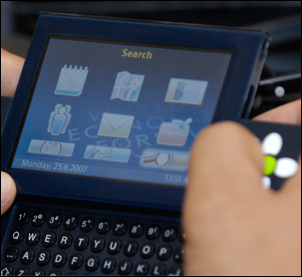 We are very pleased to see the Forum's ideas realized in the new Spotme device
Lausanne, Switzerland (PRWEB) July 23, 2007
Shockfish SA, today, announced that the World Economic Forum used the new Spotme handheld devices at the World Economic Forum on East Asia 2007, which was held in Singapore during June.
The 300 participants were among the first in the world to use the new Spotme handheld devices. The new keyboard allowed participants to send more than 500 messages to each other and take notes on conference sessions over the course of the two day event. In addition, many elements of the event's conference binder were available electronically on Spotme, including venue maps, political cartoons, partner information and program information.
Two years ago, Malte Godbersen, Principal, Head of IT, World Economic Forum provided some of the initial inspiration for the new Spotme. "We are very pleased to see the Forum's ideas realized in the new Spotme device," said Godbersen during the event.
This was the fourth time that Spotme was used at a World Economic Forum event in the past two years and the second time at the World Economic Forum on East Asia. The new Spotme launched in June 2007 and was used at events in Switzerland and Shanghai, before debuting in Singapore.
About Spotme
Spotme is a wireless communication service for meetings and events between 200 and 5,000 participants. The centerpiece of the service is a wireless handheld device. Spotme provides a full range of services ranging from instant messaging, organizer communication, networking, live voting, electronic feedback forms, attendance tracking, personalized agendas, one-to-one meeting management and sponsor benefits. To learn more visit http://www.spotme.com
About the World Economic Forum
The World Economic Forum is an independent international organization committed to improving the state of the world by engaging leaders in partnerships to shape global, regional and industry agendas. Incorporated as a foundation in 1971, and based in Geneva, Switzerland, the World Economic Forum is impartial and not-for-profit; it is tied to no political, partisan or national interests. (http://www.weforum.org)
About Shockfish SA
Shockfish SA is a privately held company based in Lausanne, Switzerland. Shockfish was founded in 1998. It designs and sells the Spotme service in the meetings industry and TinyNode in the wireless sensor network market. Spotme is the company's primary product.
# # #