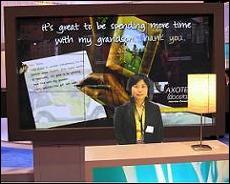 Chicago, IL (PRWEB) July 25, 2007
ICCRents has once again injected excitement into the computer rental and audio visual rental arena by offering another new product line - Seamless Video Walls Rentals. With dozens of successful Video Wall rentals under their belt, ICCRents can say with confidence that this rental package is exploding. ICCRents offers the Video Wall as a turnkey package solution including staff programmers to configure your video, web demo, powerpoint, live feed or any other source to span across all screens or show on split screen. One phone call to ICCRents will shift the technical and logistical coordination of your Video Wall need to ICC.
ICCRents has recently provided Video Walls for rent for corporate events, trade show exhibits, retail use and more. The cutting edge technology drove traffic to the exhibition area and left a lasting impression on the target audience. It simply created that Wow. effect that our clients seek. As for the presentation on the actual Video Wall - these can be designed on your own or with the help of ICCRents in-house programmers. The Video Wall can connect to any source and multiple sources at one time including computer, dvd, vcr, and camera. Every piece of technology required to run the Video Wall including high end workstation for programming, video distribution amplifiers, cabling etc is all inclusive in the package.
ICCRents has differentiated itself in the Video Wall market by offering the full package at an affordable rate. The most appealing part is that these are not the older LED wall offerings that were bigger and bulkier. ICCRents has acquired slim Orion seamless 42" plasmas that are stackable in any configuration imaginable with the 2x2 and 3x3 wall being the most popular. ICCRents also has the capability to custom design a structure around the Video Wall rental that will match your current exhibit or blend with your corporate identity. More information can be found at http://www.iccrents.com or by calling ICCRents 1-866-416-1800.
###