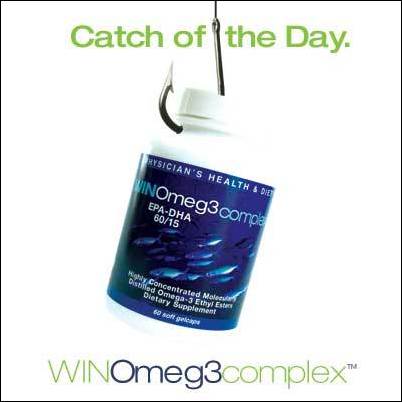 We're excited about working with a manufacturer so committed to excellence, setting the highest of standards so we can be confident WIN is providing our consumers with the best quality products, especially our omega-3 supplement, WINOmeg3complex™
Dallas, Texas (PRWEB) July 25, 2007
Ralph Oats and Cathy Oats, Founders of Wellness International Network, Ltd., (WIN) an undisputed leader in the health and nutrition industries, are pleased to announce Wellness International Network's manufacturer of their omega-3 supplement, WINOmeg3complex™, is listed as a "Best Choice" for omega-3 supplements.
The manufacturer of WINOmeg3complex™ was given the highest rating available for purity and quality by the Environmental Defense Agency, a non-profit organization aimed at protecting the environmental rights of all people including clean air, clean water, healthy food and flourishing ecosystems. The manufacturer of WIN's omega-3 supplement, WINOmeg3complex™, was recognized for its efforts in purifying their products to reduce or remove contaminants such as mercury and dioxins sometimes found naturally in fish oils. In fact, they have once again introduced new maximum limits for environmental pollutant levels in its omega-3 oils, in efforts to further boost consumer confidence in their products. The company is now pledging that its omega-3 concentrates - both triglyceride and ethyl ester - will contain no more than 4 pg/g of dioxins, furans and dioxin-like PCBs combines. Its previous specification limit was 5 mg/g. Both are still significantly lower than the EU maximum of 10 pg/g. introduced in late 2006. "We're excited about working with a manufacturer so committed to excellence, setting the highest of standards so we can be confident WIN is providing our consumers with the best quality products, especially our omega-3 supplement, WINOmeg3complex™" shares Ralph Oats. Some of the many benefits of omega-3 fatty acids include supporting the body's immune response and cardiovascular health, promoting brain function and wellness, improving joint function and promoting healthy skin. Wellness International Network is committed to offering only the highest quality weight-loss and nutritional products, including best sellers like the BioLean® System (BioLean II®, BioLean Accelerator, BioLean Free®, BioLean LipoTrim™, BioLean Mass Appeal™, BioLean ProXtreme™ and BioLean Sure2Endure™), Winrgy®, Food For Thought® and our omega-3 supplement, WINOmeg3complex™.
About WIN
A privately held company specializing in health and nutritional products, Wellness International Network, Ltd. is headquartered in Plano, Texas, while its European affiliate, WIN Worldwide BV, is located in Hoofddorp, Netherlands and its South African affiliate, Wellness International Network S.A. (Pty) Limited, is located in Johannesburg, South Africa. Founded in 1992 by Ralph Oats and his wife, Cathy; Wellness International Network operates in many countries throughout North America, Europe, Africa and Asia, and is far and away the forefront leader in global network marketing. Wellness International Network's complete nutritional line is listed in the 2007 edition of the Physicians' Desk Reference® (PDR®) for Nonprescription Drugs, Dietary Supplements and Herbs, the authoritative reference for health care professionals for decades, and a number of products have been reviewed by the National Institute for Public Health and the Environment (RIVM) in The Netherlands based on International Olympic Committee (IOC) standards on behalf of The Netherlands Olympic Committee (NOC) and The Netherlands Sports Federation (NSF). Products reviewed are now listed on the 'white list,' a list of products considered safe to use by top sports athletes from all over the world. Learn more about why "It Pays to Live Well" at winltd.com.
###