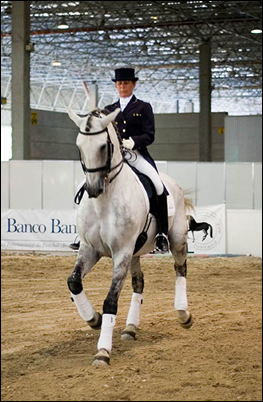 Palm Beach, FL (PRWEB) July 23, 2007
For the first time in Palm Beach County, the noble and fashionable Lusitano horse collection is arriving for auction from Brazil and will be paired with international fashion designers for presentation at the International Polo Club of Wellington.
With nearly 600 horses, Interagro, Brazil is the largest Lusitano breeding and export center in the world. Cecilia Gonzaga heads the stud- farm initiated on a historic coffee plantation in 1975, by her father, Dr. Paulo Gaviao Gonzaga, the author of three books about the Lusitano horse. Native from the Iberian peninsula, the Lusitano was domesticated, sometime around 5.000 BC by a nation of warriors who fought on horseback. As their lives depended entirely on the horse temper and reliability, the Lusitanians selected a noble, easy to ride horse, famous for its intelligence and willingness to work. These qualities allied to the modern development of the equestrian sports and the exceptional performance of the Lusitanos in all disciplines, from jumping to dressage and driving created an ever growing demand for the Lusitano and its possession became a symbol of status.
Wednesday March 5th, 2008 Horse and Fashion Presentation:
Guests will have the opportunity to view the 2008 Lusitano Horse Collection for the first time and enjoy an informal fashion show.

Time Frame: 5:00pm - 7:00pm Cocktail and Hors d'oeuvres reception followed by the 2008 Lusitano Collection and fashion showcase
Thursday March 6th, 2008 Horse Try Outs:
Interested buyers and trainers will be able to ride and test the horse's skills, as well as view a full physical exam of each horse conducted by the on site veterinarian.

Time Frame: 10:00am - 5:00pm Menu: All day light buffet
Friday March 7th, 2008 Horse Auction, Dinner and Fashion Show:
The big night! This evening will showcase the gracious Lusitano Horse Collection auctioned for the first time in Palm Beach County. Guests will enjoy a night of prestigious horses, fine dining, entertainment and fashion show.

Time Frame: 5:00pm Cocktail reception and passed Hors d'oeuvres
6:00pm - Horse Auction
8:30 Dinner and International Fashion Show - Designers TBD
10:00 pm - Night Ends
This inaugural annual event will benefit a worthwhile local charity and updates in this regard, as well as the designers will follow soon. Please keep checking http://www.lusitano-interagro.com and http://www.DevineStyle.com for updates.
# # #