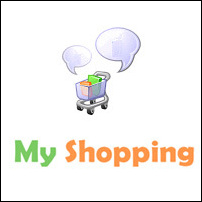 Getting an opinion from a trusted friend or co-worker is worth much more than an anonymous Internet user review
Madison, NJ (PRWEB) July 20, 2007
Today, bargain and price comparison shopping website SecretPrices.com unveiled a new social shopping application for Facebook users. The application, dubbed "My Shopping", can easily be added by any Facebook user. Within seconds users can search millions of products, rate and mark items they want or own, and showcase them in their Facebook profile. Additionally, any user can make suggestions or get advice on any product and see a selection of stores to buy from. This enables users to shop online and get advice from their network of friends simultaneously.
"Getting an opinion from a trusted friend or co-worker is worth much more than an anonymous Internet user review," said Marc Mezzacca, founder of SecretPrices.com.
Forrester Research, a market research company, suggests that most US teen shoppers with Internet access seek a connection and are either physically together, talking on their cell phones, texting or IMing while they shop. Facebook provides another social mechanism that allows friends to establish a connection and a means of communication.
"Socializing is often a large part of the shopping experience. Shopping online should not change that. Our application is great solution for anyone who loves shopping with their friends, especially the younger generation," stated Mezzacca.
The application combines the latest technologies from Facebook and eBay-owned Shopping.com by leveraging Facebook's network of relationships and combining it with Shopping.com's extensive product database.
A preview of the application was enthusiastically received by the Shopping.com Partner Team during a demonstration at the eBay Developers Conference last month in Boston. "They seemed very excited about the opportunity to be involved in providing this dynamic new shopping experience to Facebook users," stated Mezzacca.
Both Facebook members and non-members can find more information about the application by visiting http://www.secretprices.com/myshopping/.
About SecretPrices.com:
SecretPrices.com, a NextGen Shopping LLC property, is a price comparison shopping website that fully integrates coupon codes and product deals. The website offers savings from thousands of retailers and comparison shopping information on millions of products.
About NextGen Shopping LLC:
NextGen Shopping LLC is an e-commerce research and development company committed to innovation in the online shopping industry with a core focus on comparison shopping.
Contact:
Marc Mezzacca
973-968-5151
###