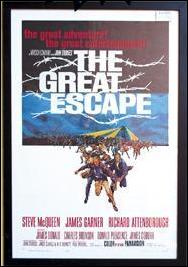 Some of these things we couldn't even do just 10 years ago. But now, we can target and deliver to a particular market segment, like in this case, war veterans.
Sedona, AZ (PRWEB) July 22, 2007
Kaufman Clark Gallery, a world renowned fine art gallery, is raffling off an original vintage movie poster from the 1963 United Artists classic, "The Great Escape," starring Steve McQueen, James Garner, Charles Bronson, and James Coburn. The 41 x 27 inch, linen-backed vintage movie poster, has been appraised at $950, and comes professionally framed, and with a "certificate of authenticity," plus Kaufman Clark's 30 year reputation of providing only the finest quality in world-famous and museum quality fine art at below market prices.
For complete information on the online Sedona - raffle, go to http://www.ilovesedona.com/articles/Kaufman_Clark/the_great_escape_movie_poster_1001.htm
"We wanted to align this rare piece of American movie making history with a cause ideally focused on WWII and the POW/MIA matter," said Beverly Oburn, gallery Director. "And we were amazed to discover and international organization dedicated to repatriated WWII MIAs that just happened to be based right here in Arizona," she continued. "In addition, we had no clue that there were still so many servicemen still missing from WWII. And after looking at Moore's Marauders' successes and future ambition, we couldn't think of a better cause to help support, and Voila! Here we are."
Proceeds of the raffle will support a monumental WWII MIA recovery effort.
MIA is a term usually associated with Vietnam, but the number of World War II missing far overshadows those lost in Southeast Asia: 78,000 versus 2000.
Thirty-five thousand of the heroes are still recoverable, and we're going to bring them home," says Ken Moore, founder of Moore's Marauders, a non-profit, all-volunteer team of doctors, historians, CSI's, Special Forces veterans, spelunkers, and divers, who venture around the world to find and repatriate the remains of American MIAs, focusing especially on soldiers lost in World War II.
The Marauders operations for 2007 are, in all likelihood, the largest MIA recovery effort in history. Expeditions include the Philippines -- focusing on the Bataan Death March, Yap, Tinian Island, and other lesser-known but significant Pacific battlefields.
Tickets and other promotional services for the online raffle are provided by I Love Sedona, an online news, information, events and promotional service for Sedona-based merchants. "We are delighted to bring an international cause and audience to a single Sedona merchant to better serve both parties," said Robert Scot, owner of Ilovesedona.com. "Some of these things we couldn't even do just 10 years ago. But now, we can target and deliver to a particular market segment, like in this case, war veterans."
Scot owns a number of print publications as well. "With the new technology, we can focus a marketing campaign like a laser - not only to a specific gallery, for example, but to a specific piece of art. And at the same time, we're able to promote a cause that can bring closure to tens of thousands of friends and relatives who lost a loved one in World War II. Wow."
About Kaufman Clark Gallery…
Kaufman Clark Gallery is a world class art gallery featuring collections of artwork and collectibles by some of the most renowned, touted, and acclaimed artists in the world. Kaufman Clark Gallery specializes in originals and limited editions such as paintings, hand-signed etchings, lithographs, woodblocks, and original movie vintage posters.
While many galleries promote and specialize in presenting art work pieces of emerging artists, which is a vital cog to the overall continued prosperity of the creative community, Kaufman Clark Gallery focuses on procuring and featuring historical museum quality referenced works of art, and conveying those to impassioned and sophisticated collectors.
Dali, Matisse, Miro, Chagall, Folon, Erete, Pissarro, Vasarely, Tooker, Montoya, Sam Francis, Graciela Boulanger, Neil Boyle, and LeRoy Neiman are just a few of the notable artist renderings for sale at the Kaufman Clark Gallery. Numerous hand-signed lithographs and etchings are available from a few hundred to thousands of dollars, each priced below market. Twentieth Century designer collectibles are available.
About Moore's Marauders…
The Marauders are an all-volunteer unit of highly skilled, highly motivated professionals from every corner of the world and from every walk of life.
Amongst our ranks are doctors, nurses, crash scene investigators (CSIs), senior police officials (with a combined half century of major case investigatory experience), two teams of underwater recovery experts, pilots (both rotary and fixed wing), expert mountain climbers, spelunkers, researchers, information technology (IT) experts, certified explosive ordnance disposal (EOD) experts and several Ph.D. historians.
###