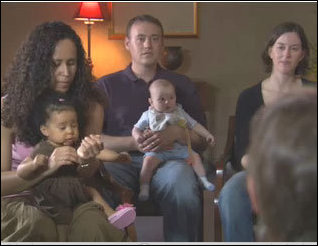 This is a time when support and advice for women is absolutely critical to the health and wellbeing of their newborn
New York, NY (PRWEB) July 24, 2007
Speculations of Nicole Richie's pregnancy have been circling the gossip columns and celebrity magazines. From pictures of a growing bump -- to her trying to cover her tummy from the paparazzi, all have been indicators of a possible pregnancy. But reports earlier this week finally surfaced that the celebrity's pregnancy is confirmed. Being an underweight woman, the question remains, will she have difficulty breastfeeding? 25 year old Richie and her boyfriend, singer Joel Madden, will face many challenges with the first baby, but fortunately they will be able to get expert advice from the award-winning television series and website -- Real Savvy Moms.
Common nursing issues and the basics of breastfeeding are covered in an excellent video segment called "Breastfeeding 101".
"This is a time when support and advice for women is absolutely critical to the health and wellbeing of their newborn," says Executive Producer, Lisa Taylor-Belliveau.
According to the featured lactation expert Carol Anne Friedman, mothers who have a history of anorexia, bulimia or other eating disorders, can still successfully breastfeed their baby. There are many pros to breastfeeding beyond the obvious; optimal infant nutrition, incredible immunological benefits for baby and there's an increased bond with the child - and Joel Madden should note that it's equally true for dads!
Their TV series, "Real Moms, Real Stories, Real Savvy" will be providing tips, answering moms' questions, and giving up-to-date information to help ease the challenges during this often-overwhelming period.
Taylor-Belliveau, a new mom herself adds: "So many new moms expect breastfeeding to be a seamless transition after labor and delivery, but in reality this is not the case for most. How do you know if your baby is getting enough milk? What do you do if baby won't latch on? How do you breastfeed around painful c-section tummies? Our show's website, RealSavvyMoms.com provides exactly this type of information with our dedicated team of experts offering one on one responses to all moms questions and concerns."
"Real Moms, Real Stories, Real Savvy" airs Nationwide on PBS stations (check listings) in New York -WLIW- Channel 21, Fridays at 2:30PM and Saturdays at 7:00AM.
About "Real Moms, Real Stories, Real Savvy"
"Real Moms, Real Stories, Real Savvy" is an award-winning series made for Public Television. The content spans from Pre-Conception to Pre-K for both new and expectant parents with important social, life-style and health and wellness information. The series is supported by a community site at http://www.realsavvymoms.com -- featuring blogs, forums, polls, videos and the highly popular "Ask an Expert" section.
The series is produced by Morphogenix, LLC.
'An Evolution in Brand Communications'. http://www.mgxmedia.com"
###