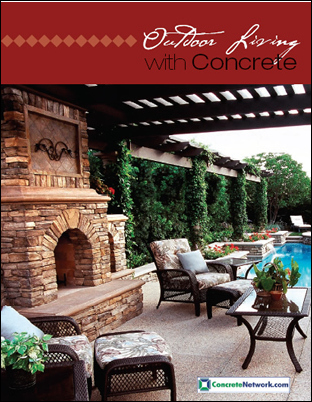 Homeowners almost always want an extension of their house. They want something that flows with the indoor flooring, and has shade as well as sun
Yucaipa, CA (PRWEB) July 26, 2007
With temperatures on the rise, many homeowners are extending their living room into their outdoor patios. With today's innovations in concrete, outdoor living areas offer all of the amenities and appliances as do interior living spaces. The Concrete Network, the largest and most comprehensive source for concrete information on the web, offers a free downloadable catalog featuring Outdoor Living with Concrete for homeowners, designers, and builders looking for ideas for decorative concrete applications.
Pages are filled with information on all of today's top decorative concrete options available for creating the perfect outdoor living room, including photos, design ideas and more. From fire pits, to pizza ovens, to concrete statuary, and furniture, the options are endless.
"Homeowners almost always want an extension of their house. They want something that flows with the indoor flooring, and has shade as well as sun," says Mike Boeddekker with Pristine Concrete, in Paso Robles, Calif.
Creating an outdoor space that allows you to entertain, to spend time with your family or just to unwind after a long day is a great way to expand your overall living area. Outdoor living design rises to a new level with concrete. Now you can bring the style and elements of your indoor rooms to the outside. Through its versatility, concrete offers unlimited design possibilities for creating the outdoor kitchen of your dreams. Options include matching color, textures, shape and more, all using a material that is able to withstand from mild to harsh climates.
Established in 1999, The Concrete Network's purpose is to educate consumers, builders, and contractors on popular decorative techniques and applications. These include stamped concrete, stained concrete floors, concrete countertops, polished concrete, and much more. In June 2007 The Concrete Network Website had over 1.2 million visitors researching decorative concrete.
The site excels at connecting buyers with local contractors in their area through its Find-A-Contractor service. The service provides visitors with a list of decorative concrete contractors throughout the U.S. and Canada, and is fully searchable by 23 types of decorative concrete work and 200 regional areas throughout North America.
###