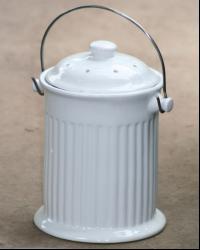 Dallas, Texas (PRWEB) July 23, 2007
With increasingly full landfills across the country becoming an important environmental issue, concerned homeowners are turning to solutions like composting to reduce the amount of waste they produce while they improve their lawns or gardens organically.
Collecting vegetable scraps in your kitchen is one easy and effective way to reduce the amount of garbage you throw out. Instead of going into the landfill, it goes into the compost pile where it breaks down into rich, fertile, organic compost, known by gardeners as "black gold." Using a compost pail is an easy way to collect these scraps.
The ceramic compost pail from Clean Air Gardening gives you a clean and tidy place to keep your kitchen scraps on your countertop. For just $39.95, you can use this attractive accessory to conveniently collect vegetable peelings while you cook.
The crock has a carbon filter in the lid so that you don't have to worry about any smells if you leave it sitting for a few days before you take it to your compost pile or bin in the back yard.
The ceramic compost crock is available from Clean Air Gardening, an online store that specializes in environmentally friendly lawn and garden supplies. You'll also find plenty of outdoor compost bins and free online tips about how to start composting.
Clean Air Gardening, LC is an online gardening store that specializes in environmentally friendly lawn and garden tools such as manual mowers, compost bins, rain barrels, electric trimmers and tillers, bird houses and much more. It is a privately owned company that has been in business since 1998. The web site is located at http://www.cleanairgardening.com.
###