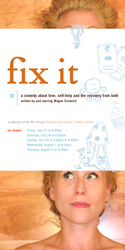 When you work this hard to hold it all together, you find a lot of things to laugh about
New York (PRWEB) July 24, 2007
Writer/performer Megan Griswold brings her hilarious one-woman show Fix It: A Comedy about Love, Self-Help and the Recovery from Both to Stage Left Studio, located at 348 West 37th Street, on Friday, July 27th as part of the Eighth Annual Midtown International Theatre Festival. Directed by Leah Davidson Krvloff and Pam DeVore, the show is written by Griswold and edited by Pam Houston and Tony Award-winner Spencer Kayden.
In Fix It, the 38-year-old Griswold, a former journalist, combines serious introspection with laugh-out-loud comedy. When faced with the betrayal of her most intimate relationship, she turns to a huge array of alternative therapies ranging from the nutty to legitimate. Fix It draws on Griswold's own admittedly dogged attempts to mend a relationship that would send most people running for cover. It led her to clock more than 10,000 hours of training and therapy including traditional talk therapy, meditation, yoga, fasting, traditional Chinese medicine, rolfing, classical homeopathy, EMDR (for the uninitiated, that's eye movement desensitization reprogramming) and more.
"When you work this hard to hold it all together, you find a lot of things to laugh about," says Griswold, who holds both an acupuncture license and a graduate degree from Yale. "Like a self-help student of sorts, if it's out there, I've probably tried it -- everything from the softer stuff -- acupuncture and yoga, which I love -- to the less familiar somatic repatterning, plant spirit medicine and vipassana meditation."
Indeed, rather than being a self-indulgent rationalization, Fix It take the audience on a journey which is poignant, personal and coupled with humor and wisdom. Fix It's 2006 premiere in Boulder, Colo., earned big laughs for Griswold's funny and self-deprecating observations about a lifetime of therapy and self-help.
About the Show
Running through August 2nd, Fix It will be performed at Stage Left Studio, located at 348 West 37th Street (between 9th & 10th Avenues) on the Fifth Floor. Show times are Friday, July 27th at 8:30pm, Wednesday, August 1st at 8:30pm, Saturday, July 28th at 6:00pm, Thursday, August 2nd at 6:30pm, Sunday, July 29th at 2:00pm & 6:45pm. Tickets are $18.00, $15.00 for students and seniors. Running time for the show is approximately 80 Minutes. More information on Megan can be found at http://www.megangriswold.com. Additional information on the Midtown International Theatre Festival can be found at http://www.midtownfestival.org. The press is invited to all performances.
About Megan Griswold
Griswold holds a graduate degree in International Relations from Yale and a bachelor's degree from Columbia. She worked for NPR's "Talk of the Nation," BBC News' "The World" and as a freelance reporter in Seattle. She is a licensed acupuncturist in the state of Washington and a mountaineering instructor for the National Outdoor Leadership School. Last February she made her National Public Radio debut with a commentary on All Things Considered, "Getting Some Self-Help from Saint Valentine." She has appeared on "Nightline," "NBC Nightly News" and "Anderson Cooper 360" on CNN. She is featured in Simon & Schuster's forthcoming release, The Clockticker's Reprieve: The New Frontier of Egg Freezing and How It's Transforming the Baby Race (Sarah E. Richards).
About "Fix It" Production Team
Griswold received support from numerous friends and peers in the editing and production of Fix It. Editor Spencer Kayden is best known to Broadway audiences for creating the role of "Little Sally" in "Urinetown the Musical" (Outer Critics & Theatre World Award Winner, Tony, Lucille Lortel & Drama Desk Nomination). Writer and editor Pam Houston worked closely with Megan to edit Fix It during the Aspen Summer Words Festival in June 2007. Houston is the author of two award-winning collections of short stories, Cowboys Are My Weakness and Waltzing the Cat.
Co-Director Leah Davidson Krvloff entered theater in college with three semesters of training in musical theatre at Syracuse University. She then began writing and performing her own folk and blues music in Pittsburgh and later, Seattle. Although performing was a great love of Leah's, she became more interested the telling and retelling of stories. Though she is not theater trained/practiced, co-director Pam DeVore gives Fix It another layer of authenticity through her experience caring for people and their bodies and minds. She holds a bachelor's degree in Philosophy from Coe College in Cedar Rapids, Iowa; is a certified massage therapist, graduating from Boulder College of Massage Therapy; and a certified neuromuscular therapist. She is also licensed in the state of Colorado and received a Diplomate in Acupuncture awarded by the National Council for the Certification of Acupuncturists.
# # #