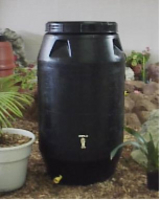 It only takes a small rain to provide enough roof runoff to quickly fill a rain barrel
Dallas, TX (PRWEB) July 25, 2007
As watering restrictions and ongoing drought in the western half of the United States become more severe, homeowners are increasingly turning to rain barrels as an old fashioned but effective solution to water shortages.
"It only takes a small rain to provide enough roof runoff to quickly fill a rain barrel," says Lars Hundley, president of Clean Air Gardening, an online store that specializes in environmentally responsible lawn and garden products. "We've seen our rain barrel sales go through the roof this year as people are looking for every reasonable alternative to make the most of available water."
Clean Air Gardening sells a 60 gallon rain barrel that is manufactured from food barrels that originally brought olives to the United States from Greece. "It's the ultimate in recycling," says Hundley. "Not only are you recycling a food barrel that would otherwise go into a landfill, but you're using it to collect rainwater and reduce the amount of city water you have to pay for every month."
The rain barrel has a screen lid over the top that lets water flow in, but keeps out mosquitoes that could otherwise breed in the standing water. A homeowner simply puts the rain barrel underneath one of the downspouts from his or her roof, and the water fills up the barrel when it rains.
On average, 1 inch of rain on a 1000 sq. ft. roof yields 625 gallons of water. To calculate the yield of your roof, multiply the square footage of your roof by 625 and divide by 1000. You can learn more about collecting rainwater at the informational Rain Barrel Guide web site.
The 60 gallon rain barrel costs $118.99.
Clean Air Gardening, LC is an online gardening store that specializes in environmentally friendly lawn and garden supplies such as reel mowers, compost bins, rain barrels, garden tools, organic fertilizers and pest control products and more. It is a privately owned company that has been in business since 1998. The web site is located at http://www.cleanairgardening.com.
###