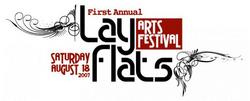 West Lafayette, IN (PRWEB) July 24, 2007
The Lay Flats Midwest Arts and Music Festival takes place on August 18th, 2007 at the Tippecanoe Outdoor Amphitheater in West Lafayette, IN from 10 a.m. to 11 p.m. as the largest all local celebration of Midwest art, music, refreshment and community in the Greater Tippecanoe County area.
This all day family event includes activities, workshops and games for children and features over 20 of the most celebrated original country, bluegrass, rock, electronic, and hip hop bands and musicians in the local Midwest area along with local artisans displaying and selling paintings, murals, pottery, jewelry, blown glass and more. Easily accessible off of St. Rd. 43, near I-65, Soldier's Home Road and Battle Ground the Lay Flats Arts Festival is the most talked about Midwest event in the area.
Journal and Courier's Bragging Rights "Best Ribs in Town" winner South Street Smokehouse will be on hand with their famous smoked meat selection and hot dogs for the kids. Local favorite Skylight Coffee House will be serving iced beverages, smoothies and a vegetarian menu. The Lafayette Brewing Company will also be providing a home brewed micro beer and wine garden for those festival goers 21 years of age and older.
Come early and stay late at this years largest family festival celebration for the arts. Proceeds from the Lay Flats Arts and Music Festival support local charities including the Early Head Start Program, Indiana Fiddler's Gathering Youth Outreach Program, Cary Home Expression through Art Program to benefit children's art therapy, outreach, support programs, and community development offered in Tippecanoe County.
Tickets are $10 in advance or $12 at the gate, Children 12 and under are free.
To buy tickets, read the schedule of events and the latest news visit http://www.layflatsfestival.com or call 765-479-7496. Tune in to 93.5 WKHY FM, B 102.9 FM, 101.3 FM and WBAA Purdue Public Radio AM 920 for more details.
###