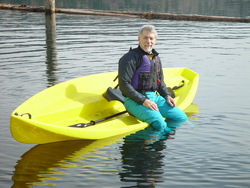 My goal is to put a billion butts in boats
Bellingham, WA (PRWEB) July 25, 2007
NuCanoe Inc. and Tim Niemier, founder of Ocean Kayak and pioneer of the sit-on-top kayak movement, announce the debut of Tim's new hybrid design at the Outdoor Retailer Summer Market show. Incorporating design aspects of a sit-on-top kayak and sport canoe, the NuCanoe is an incredibly stable, safe, and easy-to-use watercraft.
The NuCanoe is the first design from Tim's Wild Design product development company to be presented at Outdoor Retailer. "My goal is to put a billion butts in boats," says Tim, "and the NuCanoe will contribute towards that."
Tim designed the NuCanoe to be easy to use and versatile without sacrificing performance. "I made the NuCanoe extra wide to increase flotation and stability. Yet, due to the unique hull design, it is still light, responsive, and nimble on the water. Anglers, hunters, divers, and leisurely paddlers really enjoy the features and balanced performance of the NuCanoe."
Blake Young, President of NuCanoe Inc., sees the benefits of Tim's innovative design in the marketplace. "Rental operators and camps appreciate the NuCanoe's inherent safety and ease of use. Anglers love its stability, enabling them to stand to cast and land fish in a wide variety of waters - from the salt flats of Florida to the lakes of Washington. Divers are impressed with being able to easily enter & exit the NuCanoe from the water."
Tim Niemier will be available at the Open Air Demo and Outdoor Retailer show to discuss the NuCanoe's design features and to demo the NuCanoe in the paddle tank.
Open Air Demo @ Willard Bay 8 August 10:00am - 2:00pm
NuCanoe Booth #68008 9 August 2:00pm - 4:00pm
TAPS Paddle Tank 10 August 9:30am - 10:00am
NuCanoe Booth #68008 10 August 10:00am - 12:00pm
The NuCanoe features an innovative, high-flotation, sealed hull that is virtually unsinkable and provides an optimal balance of tracking, maneuverability, and speed. The NuCanoe's versatility enables single or tandem use, and allows users to choose between canoe paddling, kayak paddling, or trolling with an electric motor.
The NuCanoe Adventurer is rigged up and ready to paddle or troll to an angler's favorite fishing hole. Leisurely paddlers will enjoy the comfortable seats and great stability of the NuCanoe Deluxe. With a great blend of safety, ease-of-use, and performance, the NuCanoe Rec is a natural for recreation and rentals.
The NuCanoe is manufactured in Bellingham, WA. For more information, see our website at NuCanoe.com or call us at 888.226.6310.
###