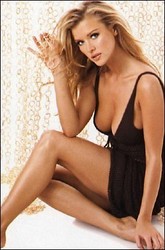 Beverly Hills, CA (PRWEB) July 24, 2007
Celebrity models Traci Bingham and Joanna Krupa have joined forces with Mario Magro Kiss For A Cause Foundation (KFAC) for an online auction of "Dinner and a Kiss," which will run from Jul. 23 - Aug. 6. In the spirit of kissing, eager bidders will have a chance to win dinner and a kiss on the cheek from the supermodel of their choice, Traci Bingham or Joanna Krupa. The lucky winners will also receive a collectible item to take back with them: a Crystal Pane kissed and signed by their respective lady. The online auction, hosted by Charity Folks, will support Mario Magro Kiss For A Cause Foundation in their efforts to provide assistance to orphanages and abandoned children throughout the world.
The Crystal Panes, kissed and signed by Bingham and Krupa, will be added to the Mario Magro KFAC Most Beautiful Woman of Hollywood Collection as part of the foundation's upcoming fundraising exhibits. Both models will kiss and sign two crystal panes, one of which will go home with the lucky winner and the other will be added to Mario Magro KFAC Most Beautiful Women of Hollywood Collection.
About the Celebrity Models
Traci Bingham owes her exotic beauty to her mixed African-American, Italian and Native American heritage. Born in Cambridge, Mass., Bingham studied psychology at Harvard Extension School and later embarked on her acting career. She has numerous television credits including "Baywatch," "Demon Knight," "Beverly Hills 90210," "The Fresh Prince of Bel Air" and "Married With Children." In 2007 she appeared on VH1's "The Surreal Life: Fame Games" and won the $100,000 Goldenpalace.net grand prize. In addition to her acting work, Bingham has posed for Playboy Magazine on a number of occasions.
Polish born Joanna Krupa has graced the covers of world-renowned magazines such as Playboy, Maxim and FHM and has extended her talent to notable film and television projects including the soon to be released movie "Six Days in Paradise" and hit TV shows "Las Vegas" and CSI: Crime Scene Investigation." She was recently voted "sexiest woman in the world" by magazines from around the world and is currently one of the most requested models, alongside stars such as Gisele Bündchen and Kate Moss. Ms. Krupa will host the primetime TV show "Celebrity Stuff" co-produced by Stuff magazine, which starts shooting this summer.
About Charity Folks
Charity Folks is the leading online marketplace for nonprofit fundraising, corporate-cause marketing campaigns and celebrity-driven charity events; a cross-market penetration that has made them the "go-to" in the field of ePhilanthropy. Among Charity Folks' special partners are hallmark nonprofits, including Entertainment Industry Foundation and The World Wildlife Fund; A-list celebrities, such as Alicia Keys and Morgan Freeman; and top-brand corporations, including Toyota and Esquire Magazine
About Mario Magro Kiss For a Cause Foundation
Mario Magro Kiss For A Cause Foundation (MMKFACF) is dedicated to the protection of orphaned, homeless and abandoned children. Internationally, there are 140,000,000 children suffering from extreme poverty. MMKFACF's mission is to house, feed and educate orphaned and abandoned children and provide work and training skills for a better future. For more information on the foundation please visit http://www.kissforacause.org
###