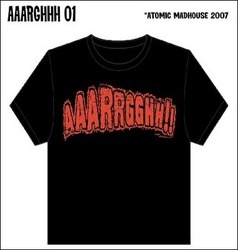 Everyone who sees them cracks a smile.
Los Angeles (PRWEB) July 24, 2007
Atomic Madhouse, a new apparel company formed by artist Frank Forte and writer Elizabeth J. Musgrave, will feature its new line of comic book sound effects and catchphrase tees. The new line will debut at San Diego, CA, July 25 -- 29 at the San Diego Convention Center, Booth #5435.
"We are excited about our new designs and think they appeal to a select audience. My inspiration comes from 1950s design, Silver age comic books, animation, and punk rock posters. I am incorporating all of my artistic background into t-shirts that I would want to wear," says Frank. "Elizabeth is coming up with some great slogans and catchphrases that capture the 'now' moments. I take that and use a cool font, break it up, and make it look faded with a retro feel. At that point, the design part is over. Then Elizabeth and I decide on color. What comes out of the collaboration is very satisfying."
"T-shirts are not only great way to initiate conversation with others and express how you feel, but they also reflect what's going on in the world. We're going to start on-line and then try to get the apparel line into boutiques and trendy clothing stores," explains Elizabeth.
"Our most popular line is the comic book sound effects t-shirts. We designed the words 'AAARRGGHH', 'BLAMM', and 'KPOWW' in a faded retro comic book style font and silk screened it crooked on the shirt," comments Frank. "Everyone who sees them cracks a smile."
"I'm sure our most controversial t-shirt is the 'Rehab' design. The word 'rehab' has become part of our daily vocabulary. At one time, that word was whispered behind closed doors. Now, the media's overuse of the word makes seem more like a rite-of-passage for the privileged. It's or way of over saturating the market," snickers Frank Forte.
About Atomic Madhouse
Atomic Madhouse, formed in 2007, is a t-shirt and apparel design company formed by artist Frank Forte and writer Elizabeth J. Musgrave that is dedicated to developing "hip t-shirts your mother wouldn't let you wear."
About Frank Forte
Frank Forte has worked as an animator and storyboard artist on such shows as "Hi Hi Puffy Ami Yumi", "Kid Notorious" and "Re-Animated." He is also the publisher of Asylum Press, a publishing house dedicated to cutting edge comic books and graphic novels. His clients include "The Drew Carey Show" Comedy Central, Revolution Studios, Raw Nerve Films, and Marvel Entertainment.
About Elizabeth J. Musgrave
Elizabeth J. Musgrave has over 10 plays and one feature film to her credits. In 2006, her play Darwin's Pate premiered in Los Angeles to great reviews. For her screenplays, she has placed quarter-finals and semi-finals in The Chesterfield Writer's Film Project, Writers' Script Network, and Fade In competitions. Additionally, she has placed in the quarter-finals for her TV spec in the Scriptapalooza contest. She earned her B.A from University of Southern Indiana and her M.F.A. from The University of Georgia.
###