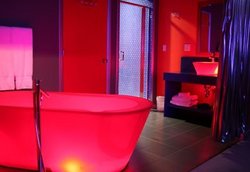 It is not just a place to stay while you enjoy the beautiful New York Catskills, but a full-blown entertainment experience of its own
Roxbury, NY (PRWEB) July 25, 2007
What sets The Roxbury Hotel apart is its brand new theatrically designed theme rooms, suites, and spa loosely inspired by an iconic American film, TV show or cartoon from the 60's and 70's. The result is a series of hotel rooms and suites with unique elements that give each room its own 'wow factor' in addition to a real sense of design, luxury, adventure and fun.
"It is not just a place to stay while you enjoy the beautiful New York Catskills, but a full-blown entertainment experience of its own," says Gregory Henderson and Joseph Massa, the hotel's co-owners and proprietors.
Genie's Bottle is a spacious two-bedroom suite constructed with the signature arabesque curves of Persian architecture and art and decorated with custom-made cheetah-print sofas, silk damask-patterned settees, and "Victoria's Ghost" Phillipe Starck chairs. The "crown jewel" of the suite is a perfectly spherical purple and gold luxurious bottle-shaped bathroom with a 70-gallon Japanese soaking tub at its center. The "genie's bottle" is not simply curved marble walls, but a perfectly engineered sphere.
George's Space Pad is furnished with space-age orange, Lucite, and chrome chairs and a cherry red chromatherapy bathtub and sink that actually illuminate from within. Specially manufactured in Italy, the Space Pad tub and sink illustrate how an entire room can be built around a "riff" on one key design element. Fred's Lair has an 11' tall pebble stone shower and bathroom area, bed throws made of seven different kinds of faux fur and mirrors made of driftwood collected from the Cornish Coast of England. Co-owner Joseph Massa sculpted the rocky interior of this room for months.
The Mod Pod is the epitome of 1960/70s groove with its artichoke-shaped chandeliers, flower-power artwork, and swirling yellow, green and orange wallpaper reminiscent of Rowan and Martin's "Laugh-In." Golightly-A-Go-Go, with its black velvet and crunched silver foil wall coverings, Tiffany-blue accent walls, crystal chandeliers, and rich cherry wood molding, is an elegant tribute to the iconic Truman Capote character and Audrey Hepburn's classic performance.
The Partridge Nest, with its bright blue, yellow and red 3D wallscape and pop-art glass mosaic tile work, is a reincarnation of the famous Mondrian-inspired bus. Samantha's Cloud is light and airy, with sparkling silver glitter-glass mosaic tile and an ethereal cloud mural that spans the entire ceiling and most of the walls.
"In designing the rooms, our goal was to create an environment of pampering comfort. They are meant to exude 'whimsical elegance.' Many of these one-of-a-kind elements were created or discovered by our staff. Our hotel manager even made many of the lampshades, drapes and throw pillows. Hotel co-owner Joseph Massa not only supervised the construction process, he was also a man of all trades. The Mondrian masterpiece in the Partridge Nest took him three months of excruciating patience and a fortune in masking tape," says Henderson.
Amenities Abound in These Super Cool Rooms...All rooms and suites include an extensive continental breakfast, WiFi, refrigerator, microwave, coffee machine, A/C, 100% Egyptian cotton linens, telephones with voicemail, luxury 'Lather' bathroom amenities, locally hand-made body soaps, state-of-the-art flat screen TVs with DVD players and access to a DVD collection of over 400 DVD's, mood lighting on dimmers, fresh flowers, Godiva chocolates, double-pillow top mattresses, and one-of-a kind chandeliers.
The inspiration started with "The Shagadelic," an aptly named suite in the original Roxbury. Guests responded so positively to the "cool factor" that Henderson and Massa decided to undergo a major expansion that takes off in several retro-chic directions and now doubles The Roxbury's size.
Also new at The Roxbury Hotel is The Shimmer Spa. Thousands of iridescent mosaic tiles surround the professional sports caliber hot tub, a dry sauna, a fireplace, and a shower made of black river rock that massages your feet while taking a shower. The new 900 square foot upper deck at The Roxbury Hotel is furnished with comfortable chaise lounges and sectional "conversation area" couches. The fire pit is custom-engineered to allow flames to dance through chartreuse aquatel glass crystals. There is also a custom-made 4' x 6' Chihuly-inspired chandelier that hangs in the exterior stairwell that was specially commissioned.
For those seeking the comfort of more conventional accommodations, a number of "classic" rooms and suites are available from stylish "comes-with-kitchenette" rooms to cozy studios.
The villages, hamlets and countryside surrounding Roxbury offer numerous recreational and cultural pursuits and events to enjoy year-round including biking, hiking, skiing and snowboarding, fall foliage tours, fishing, golfing and kayaking. Museums, galleries, antiquing, heritage tourism events and fairs, auctions and historic sites throughout the area offer something for everyone.
Located at 2258 County Highway 41, Roxbury, NY, The Roxbury Hotel is less than a three-hour drive from the New York tri-state area, Albany, and Philadelphia. The Roxbury welcomes families, meeting groups, singles and lovers. Its guest register now includes visitors from more than 27 countries.
To view visuals of all rooms, go to http://www.theroxburymotel.com, click on Rooms & Spa, then the appropriate room category, and scroll to the links for "viewing actual photos" of every single room.
For media: To download high-resolution photos of The Roxbury go to http://www.theroxburymotel.com/photos. B-roll available upon request.
Press Agent:
Karen M. Parziale, 201-222-1309
360 DEGREES PR
# # #