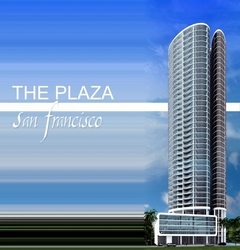 Panama City, Panama (PRWEB) July 25, 2007
Homes Real Estate & Investment Services is ready to present the next phase in it's plan to revolutionize income earning real estate market in Panama. The Plaza San Francisco, which is set to dot the Panama City skyline by 2009 will offer it's residents the ability to live and earn money from a single investment continuing the trend pioneered with the release of the Plaza Obarrio.
The Plaza San Francisco will consist of 37 floors with 4 apartments per floor. Each apartment will have 2 bedrooms seperated by a special lockout mechanism with each bedroom having a seperate entrance. The residents of the Plaza San Francisco will have the ability to rent out none, one or both of the bedrooms as part of a luxury hotel complex that is also part of this project.
An on-site property management team will oversee the rental of the hotel units and will also provide a maid service to ensure all units in the hotel / residence are kept in pristine order allowing unit owners to enjoy a wonderful passive income stream hands free.
All units in the Plaza San Francisco will come fully furnished with all appliances and central air conditioning system also included in the listed price making this investment opportunity even more attractive.
The building will also feature an impressive amenities package that includes; business center, valet parking, shuttle service, swimming pool, wellness spa, gym, 24 hour security among others.
Located in the San Francisco district in the heart of downtown Panama City, this building will offer stunning views of the Pacific Ocean with a central location close to all services, restaurants, shopping and entertainment.
Homes Real Estate & Investment Services is now accepting reservations for this exclusive project. For more information regarding this project or Panama real estate investment please contact Homes.
###