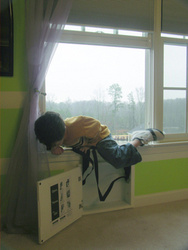 Builders can accomplish all of these goals by investing in products like PEARL. You can't put a price tag on that kind of security.
Atlanta, Ga. (PRWEB) July 26, 2007
PEARL Protected®, creators of the patented Permanent Escape And Rescue Ladder (PEARL®) for two and three-story homes, today announced that Crosswinds Communities is among the first builders in California's fast-growing Central Valley region to install PEARL as a standard feature in the master bedrooms of all its new homes located at Riverstone in Bellevue Ranch, a master planned community in Merced. Homeowners will also have the option to install additional ladders in other upstairs bedrooms. Crosswinds Communities currently showcases PEARL units in each of its three model homes which opened in mid-June.
Each new two-story home in Bellevue Ranch will include one PEARL ladder as a standard feature, with the option to install additional ladders based on the homeowner's preference. Crosswinds Communities is also offering retrofit installation for consumers whose homes are already under contract. The company, which specializes in creating master plan communities that promote quality of life, adds PEARL to its extensive list of standard product offerings that offer homeowners long-term value.
"We recognize that PEARL is a distinctive feature that creates tremendous value for our homeowners both today and in the future," said Dan Hahn, project manager for Crosswinds Communities. "For such a small investment, this permanent escape solution can offer unprecedented protection and peace of mind that cannot be measured in dollars and cents."
According to the National Fire Protection Association, there were approximately 381,000 home fires in 2005, resulting in 3,030 civilian deaths and more than 13,300 civilian injuries. Many of these casualties are the direct result of not being able to escape from upper-story bedrooms. Because PEARL can be permanently installed into the interior wall space beneath second and third-story windows, homebuilders like Crosswinds Communities are closing this deadly gap in residential fire safety by including an "always there" means of escape.
Located in the heart of the blossoming Central Valley region, Bellevue Ranch is an innovative, village-style neighborhood built around nature, learning and modern living. Homes are available in a variety of sizes and floor plans throughout this pedestrian-friendly community with tree-lined streets and scenic views. Additionally, developer Crosswinds Communities' master planned homes are complete with security packages as well as energy efficiency and interior air quality product innovations.
"As some housing markets grow soft, builders are more determined than ever to secure their market share with innovative products, smarter marketing and a better understanding of consumers' needs," said David Duley, co-founder and CEO of PEARL Protected. "Builders can accomplish all of these goals by investing in products like PEARL. You can't put a price tag on that kind of security."
Since PEARL's debut in October 2005, it has become one of the most recognized home safety products in the marketplace. PEARL has received the Home Safety Council's 2006 Product Innovation Award and has been featured on multiple episodes of ABC's "Extreme Makeover: Home Edition." PEARL has been also been showcased on NBC's "Today" and CBS's "The Early Show."
For more information about PEARL Protected, visit http://www.pearlprotected.com.
About PEARL Protected
Headquartered in Atlanta, Georgia, PEARL Protected is redefining the standards of home and fire safety through its patented, breakthrough product - PEARL - a revolutionary Permanent Escape And Rescue Ladder that can be quickly and easily deployed in the event of a residential fire or other home emergency. It is currently available through a variety of channels, including the company's national installation partner - Mr. Handyman, homebuilders, building supply dealers, security companies, remodelers and other maintenance specialists. PEARL can also be ordered directly through the PEARL Protected website (http://www.pearlprotected.com) or via phone at 800.374.5737.
###