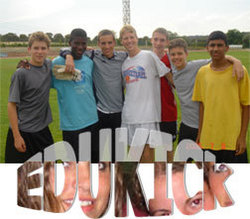 You should choose a camp depending on what you want to get out of the experience
Oakville, Ontario (PRWEB) July 26, 2007
It's summer, and a number of kids and parents are looking into soccer camps. About 28 percent of kids between 7 and 11 play soccer in local leagues, and as they get older, there's more of a desire to hone their skills. Soccer camps provide a fun and challenging way for kids and teenagers to become more proficient in the sport
"Soccer camps are popular; there's no doubt about it," said Joey Bilotta, vice president of EduKick, a training-abroad soccer program.
However, not all camps are created equal.
"When it comes to soccer camp, or any sports camp, it's best to figure out what you want out of it before coming to a decision," Bilotta said. "Otherwise you're going to be out a lot of time and money without the results to show for it."
The cost and length of a camp are not necessarily connected to the type of experience players will have there. Those seeking a fun time with friends, for example, would be better off looking at a cheaper camp where the memories made will be more important than the skills learned. If you're bored with regular soccer camps, then an exotic camp location might spark interest again.
"The soccer camp you choose also depends on the skills you want to learn," said Bilotta. "If you're looking to improve your basic ball skills, then you don't need to be at a camp with your friends. Look for one with a small staff-to-student ratio and coaches who are going to take the time to correct your mistakes."
On the other hand, players looking to improve their tactical abilities would be better off with a longer camp or even boarding school. According to Bilotta, tactics take time and mistakes to learn, and it's difficult to get that out of a shorter camp.
Players who want to work on their competitive skills on a team level should be looking into team camps, rather than just individual ones. If they want to improve their competitive skills on an international level, a soccer camp abroad would be a good way to do so.
"You should choose a camp depending on what you want to get out of the experience," Bilotta said. "There are plenty out there, so you can find one that will work for you."
For more information about soccer camps or to see the programs that EduKick offers, visit EduKick.com.
About Edukick, Inc.:
Edukick's mission is to provide intensive soccer training programs that also teach youngsters about cultural diversity and foreign languages. As professionals, soccer fanatics and fathers, Joseph Bilotta and Corey Zimmerman wanted to create a program that maximized the EduKick youth's time abroad; instilling a sense of independence and pride through experiencing international travel, structured language study, cultural excursions, and professional soccer training.
Press release promotion by Xeal Precision Marketing
###