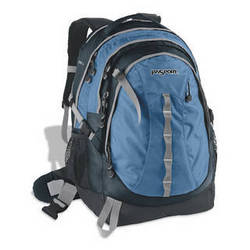 The online consumer demand for JanSport backpacks has steadily increased over the years
Seattle, WA (PRWEB) July 26, 2007
Altrec.com, the Web's most comprehensive resource for outdoor lifestyles, is pleased to announce the addition of JanSport Backpacks to its line of name-brand gear and apparel. Whether scaling mountain peaks or hauling books to school, JanSport backpacks provide functional products that fit into all walks of life.
"The online consumer demand for JanSport backpacks has steadily increased over the years," said Craig Bokesch, Online Marketing Manager at Altrec.com. "I am excited to have their bookbags available as we enter the back to school season. Sales of the JanSport Odyssey, Superbreak, and Wasabi backpacks are already off to a great start on Altrec.com."
Altrec.com selected JanSport because of the company's commitment towards providing world-class products, while ensuring safe, ethical and lawful manufacturing conditions. With a core function on "The Great Outdoors" JanSport is a perfect addition to Altrec.com, the full-service solution for camping equipment and hiking gear needs.
"JanSport is a brand that we believe in and that will grow in importance going forward. Historically thought of a back-to-school resource, we believe Jansport has validity in Mountaineering and Travel. The Rainier Mountaineering Guides (RMI) will be using a Jansport pack which has received Backpacker Magazine's Editor's Choice Award. This group's adoption of JanSport, just further validates our commitment to support the brand."
JanSport offers a full line of bags including, outdoor backpacks, school backpacks, bookbags, messenger bags and rolling bags. Similar to Altrec.com, JanSport celebrates all outdoor enthusiasts, "from those who scale peaks to those who take casual walks through Central Park."
About Altrec:
Altrec.com Outdoors ("all trek") is an e-commerce retailer of premium outdoor clothing and gear. Altrec caters to active outdoor enthusiasts who ski, snowboard, climb, run, hike, paddle, peddle, swim, and explore the edges of the planet. Altrec seeks out top-notch products from manufacturers such as Burton, Patagonia, Salomon, The North Face, Oakley, Arc'teryx, JanSport and many more. More information can be found at http://www.altrec.com.
###