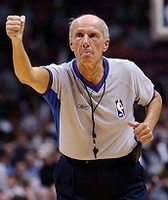 This service isn't just about bashing the bad refs
San Francisco, CA (PRWEB) July 27, 2007
Consumer rating community RateItAll today announced that it had launched a new rating channel that allows NBA fans to rate and review the league's referees. The new channel, NBA Referee Ratings, is available to any site visitor at no charge.
"In the wake of the Tim Donaghy scandal, many basketball insiders have been asking for more transparency in how NBA refs are evaluated," said RateItAll founder Lawrence Coburn. "Why shouldn't the fans have a voice in this evaluation?"
RateItAll's NBA Referee channel allows visitors to RateItAll to rate and review any of the league's 60 referees, and provides a brief editorial blurb and photo about each official. Referees are ranked by cumulative rating, with the highest rated referee appearing first on the page.
"The wisdom of the crowds has proven to be a powerful tool for evaluating all sorts of things," said Coburn. "In the case of NBA refs, perhaps the NBA fan community is more qualified than any one individual to determine who the best refs are."
RateItAll also offers portable "widgets" for each referee that allow each ref to be rated and reviewed from any blog, website, or social networking profile. For example, a fan site dedicated to NBA ref Dick Bavetta could allow its visitors to post their support for Bavetta, without ever visiting RateItAll. NBA Referee widgets are available to any site visitor at no charge, and may be installed simply by copying and pasting.
"This service isn't just about bashing the bad refs," said Coburn. "The vast majority of NBA refs, like Dick Bavetta, are doing a heck of a job - let's recognize them."
About RateItAll:
Based in San Francisco and ranked among the 3,000 busiest US websites, RateItAll is a distributed consumer rating community where visitors can find and share opinions on virtually any topic. All of the site's content is available for syndication via widgets, and RateItAll members share in the advertising revenue associated with their reviews. RateItAll's mission is to power the distributed exchange of the world's opinions.
###