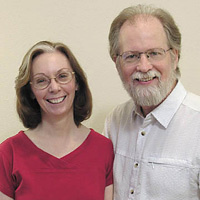 We chose premier historical destinations that recall America's most formative years -- the time before the 1840s westward movement. Many have activities that make history fun, whether you're traveling alone, with friends or with kids
Jackson, CA (PRWEB) July 26, 2007 -
Traveling this fall? How about including re-enactments and other living history events in your plans. They're a great way to enrich RV road trips, family travel and home school outings. History-travel experts Suzanne and Craig Sheumaker offer you a long list of suggestions that are fun, unusual and educational.
Authors of the new travel book 'America's Living History-The Early Years,', the Sheumakers have published a free 'In the Spotlight' travel article on the website AmericasLivingHistory.com. It focuses on 45 events that will take place during September and October at national and state historical parks, historic landmarks and living history museums throughout the United States.
"We chose premier historical destinations that recall America's most formative years -- the time before the 1840s westward movement. Many have activities that make history fun, whether you're traveling alone, with friends or with kids," says Suzanne Sheumaker.
Among the special events are Native American celebrations, African American heritage days, 19th-century harvest festivals, pioneer gatherings, religious history weekends, heirloom garden shows, military encampments, war re-enactments and a wide range of craft fairs reminiscent of Spanish, French and English colonial days. Brief overviews with phone numbers and URLs are included.
Feel free to share all or part of 'In The Spotlight: Living History Events' with others, in print or online. Just remember that the article is copyrighted. So please credit the authors and include a link to the website AmericasLivingHistory.com
About the Authors
Suzanne and Craig Sheumaker are history-travel experts. They recently published the new guidebook 'America's Living History-The Early Years' to bring together in one place tantalizing information about tourist attractions that recall America's most formative years. The colorful 224-page book is receiving high praise for its unique approach to both U.S. history and U.S. travel. With insightful text and 500 destination photographs, it enables readers to page through America's early years chronologically, from Native Peoples to the first stages of westward expansion. Along the way, readers discover a wealth of exciting places that can be enjoyed today. Regional maps and tourist information make travel planning easy.
'America's Living History-The Early Years' is available wherever travel books are sold. If it is not in stock at your local bookstore, you can order it or go to Amazon.com, BarnesAndNoble.com or other online bookstores. Autographed books are available direct from the authors via Red Corral Publishing. ISBN: 978-0-9792598-0-7
Contact:
Red Corral Publishing
Suzanne Sheumaker
209-295-5582
###