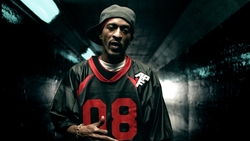 Football Resurrected reaches consumers on a personal level, inviting them with original content that speaks to their passion for virtual football and music.
San Francisco, CA (PRWEB) July 26, 2007
EVB, a digital content marketing firm, is unveiling a lifestyle marketing campaign today called "Football Resurrected" for video game publisher, 2K Sports. The campaign celebrates 2K Sports' return to the football video game market with All-Pro Football 2K8, a virtual football game developed by Visual Concepts featuring over 240 football legends including John Elway, Jerry Rice and Barry Sanders. 2K Sports ceased production of football games in 2004 when competitor, Electronic Arts, received exclusive game rights to use the NFL license.
To launch All-Pro Football 2K8 on July 18, EVB developed "Football Resurrected," a campaign that blends hip-hop, sports and video game cultures to connect with next-generation gamers and football fanatics through engaging content. EVB carried out its core digital concept across television, print, online, wild postings, street teams, packaging and logo design.
"We took a fresh approach to reintroduce 2K Sports to football gaming by utilizing a single digital idea that seamlessly extends across platforms, engages users and encourages them to interact with the 2K Sports brand," said Jason Zada, EVB Executive Creative Director. "Football Resurrected reaches consumers on a personal level, inviting them with original content that speaks to their passion for virtual football and music."
Kicking off the campaign, EVB developed a series of episodic videos, featuring past and present hip-hop luminaries, who poetically rhyme about the resurrection of 2K Sports. The six, two-minute episodes were directed and scripted by EVB's Jason Zada and feature artists including Rakim, Chali 2Na from Jurassic 5, Pep Love & Casual of Hieroglyphics, M-1 from Dead Prez, and Aceyalone. The first three episodes, "Rice Returns," "Give Me Real Football," and "Barry is Back" are now available for download on YouTube, Xbox Live™ & Sony PLAYSTATION@3 websites and a dedicated All-Pro Football 2K8 website, http://www.FootballResurrected.com. More digital episodes, including "My House My Rules" and "Singletary Hunts Again" will continue to launch through August 8.
Using the same episodic content, EVB developed "Football Resurrected" television spots. The 30 second and 15 second commercials feature a shortened version of Rakim standing inside a stadium tunnel where he freestyle rhymes about using Jerry Rice, the retired wide receiver and "Dancing with the Stars" participant, as a character in All-Pro Football 2K8. The TV spots air July 13 through August 12 on ESPN, ESPN2, ESPNews, NFL Network, MTV, MTV2, BET, USA, Comedy Central, FX, G4, Spike, SciFi and TBS.
EVB developed print advertisements and street team posters that reflect each artist's episode by incorporating key elements of the artist's poetic performance into the print designs. Print ads will run in July, August and September editions of music, lifestyle and gaming publications. Street teams and wild postings will occur in conjunction with the 2K Sports national music tour from July 23 to August 25. The tour will host performances from legendary hip-hop artists in over 20 U.S. cities, including New York, Chicago, Boston, San Francisco and Los Angeles.
"Football Resurrected complements our overall strategy because we wanted to return with not only an innovative game but a marketing campaign that reflects our originality and knowledge of our consumer," said Tim Rosa, Director of Brand & Lifestyle Marketing, 2K Sports. "Developing a videogame trailer is the traditional approach, so we created something less in-your-face and more about interesting, useful content. EVB's expertise in producing engaging content made them the right partner to achieve this vision."
About EVB, Inc
EVB (http://www.evb.com) is a leading digital content marketing agency that specializes in idea-driven, multi-platform marketing campaigns that act to engage and persuade the modern consumer in any medium. EVB is about engagement, not disruption, speaking to consumers on their terms. EVB's consumer-centric approach blends strategy with entertainment and interactivity to develop pioneering marketing campaigns that generate brand awareness, deepen consumer relationships and instill long-term brand loyalty. EVB was founded in 2000 by industry veterans, Daniel Stein and Jason Zada. The company directs marketing and digital media initiatives for brands such as adidas, Kellogg's, Wrigley, Microsoft, MTV and Office Max. In September 2006, EVB joined the Omnicom Group (NYSE: OMC), a global leader in advertising, marketing and corporate communications.
About Omnicom Group
EVB is a part of Omnicom Group Inc. (NYSE: OMC) (http://www.omnicomgroup.com ). Omnicom is a leading global advertising, marketing and corporate communications company. Omnicom's branded networks and numerous specialty firms provide advertising, strategic media planning and buying, interactive, direct and promotional marketing, public relations and other specialty communications services to over 5,000 clients in more than 100 countries.
# # #