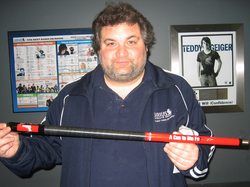 I have teamed up with the greatest billiards manufacturer in the country to make this signature pool cue. It is a great collectible for Soprano's fans and a perfect cue for all pool players
Medford, OR (PRWEB) July 30, 2007
Rockwell Billiards announced today that their long awaited signature pool cue from Soprano's Star Joseph R. Gannascoli is now available. The cue is named "A Cue to Die For" following in Gannascoli's theme from his cookbook novel "A Meal to Die For" and the way he was killed.
Gannascoli played Vito Spatafore; the gay mobster, in HBO's hit series The Sopranos. Joe starred in the Sopranos from 1999 appearing in 43 episodes. He was finally whacked in episode #11 during season 6. Vito was brutally beaten to death with a pool cue when the mob found out he was gay.
Joe knew that creating his character to be gay would become the talk of Hollywood and be a risky move but he knew he could make it happen. Once Gannascoli presented the idea to David Chase, Vito instantly became one of the most highly profiled characters on the show.
"I have teamed up with the greatest billiards manufacturer in the country to make this signature pool cue. It is a great collectible for Soprano's fans and a perfect cue for all pool players," says Gannascoli.
With headquarters in Medford, Oregon, Rockwell Billiards has been manufacturing premier billiard products for over 30 years. "We are thrilled to be making this exclusive once in a lifetime pool cue for Vito from one of the biggest TV shows ever, The Sopranos," said John Candy, Marketing and Sales coordinator at Rockwell.
The signature pool cue has found its way into numerous billiard halls across the United States and into the hands of many celebrities including Joe's good friend and co-star of the Howard Stern Show, Artie Lange. Artie is a long time pool player and was presented with a cue during one of Joe's recent appearances on the Howard Stern Show (as seen in photo).
Visit Vito's web site: http://www.joesoup.com and check out A Cue to Die For, A Meal to Die For and coming soon ... A Cigar to Die For.
Joe Gannascoli (Vito) is available for radio and television interviews. To schedule, call Doug Friedman at (973) 985-1050.
Rockwell Billiards: John Candy (877) 231-1466 http://www.rockwellbilliards.com
###