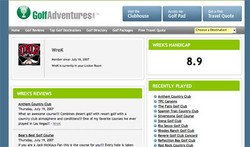 Our members can always expect some kind of contest through GolfAdventures.com.
Las Vegas, NV (PRWEB) July 31, 2007
GolfAdventures.com has officially launched a new web portal dedicated to helping golfers around the world locate information on thousands of golf courses throughout the United States, Mexico and Canada.
Golfers have the opportunity to join as a member, which gives immediate access to a personalized "Golf Pad." Via the golf pad, members of GolfAdventures.com can provide honest feedback on golf courses they've played, track their handicap, customize GolfAdventures.com reviews and news, interact with other golfers through an internal messaging system, and much more. "We're taking golf online to the desk of our members," says Alex Isaac, Managing Partner and Vice President over Sales and Marketing for GolfAdventures.com. "Any golfer who wants information about any golf course can find it quickly and easily via GolfAdventures.com. If you want to golf in Las Vegas, why not get the information on the golf courses from golfers just like you," continues Isaac.
The GolfAdventures.com portal is a collaboration of ideas gathered from real players around the country -- from the average golfer to the PGA Professional. The main website features golf reviews and news on Golf Courses throughout the world. "We understand that Tiger Woods is news in golf, but when it really comes down to the game, we all want to know the same thing -- what's the golf course to play and how do you play it. If you want news on Tiger or the PGA Tour, we recommend ESPN.com, but if it's honest reviews on the golf course, we'll dish it out." says Alex Isaac. This promise is fulfilled through various golf course reviews on popular golf destinations that include: Las Vegas, Nevada, Scottsdale, Arizona, Myrtle Beach, South Carolina and Pebble Beach, California. But what about those less-than-popular golf destinations throughout the United States? "We have them all" says Isaac "If you want to golf in Alaska, we have the golf courses. Do you want to find a golf course in Shelton, Connecticut? You'll also find it on GolfAdventures.com -- complete with driving directions." GolfAdventures.com provides direct driving directions via the popular Google Maps system.
In celebration of the launch, GolfAdventures.com is offering new members a chance to win a golf vacation to Las Vegas. "We're so excited about the launch of this fun and informative website that we're giving two golfers a chance to golf right here in Las Vegas for free," says Isaac. Golfers need simply register on the new website and they are automatically entered to win the trip to Las Vegas, which includes hotel and golf. Other prizes are in the works as well, including a set of golf clubs by Nicklaus Golf Equipment and free rounds of golf at golf courses around the world. "Our members can always expect some kind of contest through GolfAdventures.com." says Isaac. "We have more golf than we can play and we'd like to share that with them."
"The software is still in beta, but is fully functional and offers an area on the members' 'Golf Pad' to submit bugs or suggestions," says Lani Castro, Software Developer and Lead Support for GolfAdventures.com. "Fully functional" is the key phrase here. Not only does GolfAdventures.com offer the golfer a personal space to boast his handicap and the courses he/she has played, but it also offers a place for golfers to seek out advice or information on golf interests of all kinds. "The feature I enjoy most about GolfAdventures.com is 'The Clubhouse.' Here golfers can ask and offer information on golf-related topics," continues Castro.
There's so much more to GolfAdventures.com for the average golfer than meets the eye. The website may feature propriety articles and reviews on golf courses, but the golfers themselves take the reins when it comes to positioning the golf course in the eye of the reader, through their own experience.
For those interested in the new web portal, visit http://www.GolfAdventures.com, register for membership and prepare yourself to be immersed into a world of golf according to golfers.
About GolfAdventures.com:
Specialists in their realm, GolfAdventures.com focuses on one thing - providing exceptional golfing experiences on the best golf courses throughout the world. GolfAdventures.com provides information and news on golf courses that matter, whether you're a seasoned professional golfer or the occasional golf enthusiast. GolfAdventures.com also specializes in providing both custom-tailored golf packages, as well as corporate "Stay and Play" golf outings to Las Vegas, Nevada, Scottsdale, Arizona, Cabo San Lucas, Mexico and Niagara Falls, Canada. Knowledgeable and helpful Professional Golf Association (PGA) professionals enhance every golf vacation as the client's personal golf concierge. GolfAdventures.com also offers special packages for groups, special settings for meetings, banquets, and corporate events, as well as all-inclusive event-planning services. A privately held company, GolfAdventures.com is driven by an accomplished team of leaders with an impressive track record of accomplishments in the golf and destination travel industries. For more information call 1-877-777-9459 or visit http://www.GolfAdventures.com
###