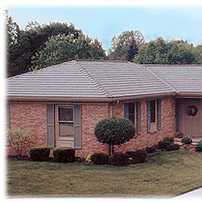 Massachusetts (PRWEB) July 30, 2007
Classic Metal Roofs, LLC, serving Southern New England, now offer a Metal Roofing system that will outlast any traditional asphalt and shingle roof by decades, without ever requiring touch-ups, repairs, or re-installation. Each Metal Roofing system is environmentally friendly, energy efficient, and comes with a warranty on the lifetime of the house; saving homeowners thousands of dollars on energy bills and roof renovations.
Classic Metal Roofs, LLC, an exclusive dealer of Classic Products for the past 25 years, offer Metal Roofing systems to American homeowners, of the Southern New England area, that pay for themselves in terms of energy cost saving, efficiency, durability, and safety. These roofs require little to no maintenance over the years and hurricane tested they provide that extra measure of safety, desired by every family.
In 2006 the IRS introduced a new tax credit available to homeowners who choose to install a Metal Roof on their home, as an incentive for Americans to embrace environmental-friendly, and energy conserving products for their home. Metal Roofing will help to eradicate the 7 - 10 tons of asphalt shingle waste that ends up in US landfills every year. In certain cases Classic Metal Roof, LLC, Metal Roofing experts state that they can install a new Metal Roof directly over the existing roof, eliminating waste altogether.
In 2004, Oak Ridge National Laboratory's Buildings Technology Center, completed a three year independent study on the performance and benefits of Metal Roofs. The study found that even after years (some case studies were up to 30 years) of continued exposure to the weather, Metal Roofs were still more energy efficient than other types of roof and maintained good surface properties, resisted soiling, erosion, and even dulling whether the metal was a painted or not.
It also showed that pre-painted Metal Roofing retained 95% of its solar reflectance over the three year study, and the infrared emittance of the painted metals was unaffected by climate exposure. All painted Metal Roofing systems maintained the original manufactured appearance even after 3.5 years of exposure to rains with a pH level of 4.3.
The durability and numerous benefits of Metal Roofing Systems has also been shown to increase the value of a home on the real estate property market; while, it's durability and long life boost the value of the neighborhood. In the event that the original owner wishes to sells the property, the lifetime warranty for the Metal Roofing system is able to be transferred to the new owner.
Classic Metal Roofs use an interlocking installation system which not only strengthens the roof's weather barrier against water damage due to seepage, but it also strengthens the roof's resistance to hurricane force winds. The roofing systems have been tested to withstand winds from 110 to 150 mph. Metal Roofs are also mold resistant, fire resistant, rust resistant, dent resistant, solar reflective, made of 98% recycled aluminum, and look as good as new for decades. Only factory-certified professional Metal Roofers are allowed to install the new roofing systems, to ensure quality and long-life.
For more information about the Classic Metal Roofs, LLC or to explore the full line of available products, to make an appointment with a Classic Metal Roofs, LLC expert roofer about Metal Roof options for your home, or to sign up to receive a free copy of An Insider's Guide To Metal Roofing, please visit our official website at: http://www.classicmetalroofs.com
Or call Toll Free: 1-866-660-6668
Contact Information:
Mike Gonet
Massachusetts, New England
Classic Metal Roofs, LLC
Toll Free: 1-866-660-6668
http://www.classicmetalroofs.com
###