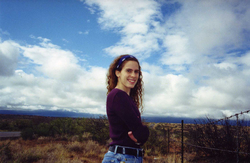 And that's not normal, is it?
New Haven, CT (PRWEB) July 30, 2007
Frozen Tide author Ren Knopf pits Sarah Reid, bartender, online oceanography student, and one of the toughest deck hands in Dutch Harbor against a predatory energy company running a mysterious research project in the Bering Sea. She suspects Odin Energy is secretly drilling for a new source of energy, but at imminent risk to the environment. The more she delves into the scheme, the more boat owners and locals ostracize her for jeopardizing the only livelihood they know.
Ms. Knopf draws from her experiences as a native of coastal New England where she grew up in a family consumed by powerboats, car engines and airplanes. Sport fishing was ever present. Her ties to the sea -- she is an avid SCUBA diver -- and seeing first-hand the insatiable appetite boats and private planes have for fuel, inspired her to focus on alternative energy and the deadliest job in the world -- king crab fishing -- in her new thriller Frozen Tide (Arbor Books, New York, 2007 ISBN: ISBN 10: 0-9790469-8-X)
Despite the risk to her life and reputation, Sarah strives to expose Odin Energy - an unscrupulous corporation bent on extracting methane from the floor of the Bering sea, regardless of the cost to human life, risk to the environment and danger to the crab boat crews that ply these waters for king crab.
The story unfolds in Dutch Harbor and the town of Unalaska, a crab fishing and processing center. Sarah is living alone in a one-room loft above the saloon where she tends bar. She is in charge of getting the bar stocked for the returning crews. She expects the bar owner and captain of the Westender -- along with her brother, a Westender deckhand -- to return any day from the 12- week season. The boat - brimming with crabs - makes it back to port piloted by a stranger who quickly vanishes. Its equipment is in disarray and the crew -- plus the million dollars that was supposed to have been deposited in the captain's bank account as payment for the 250,000-pound catch -- have gone missing.
Sarah, who had been tracking Westender's whereabouts by downloading satellite images to her computer, discovers that an Odin Energy supertanker was in the vicinity of the boat. She delves deeper into the circumstances of the missing crew and money enlisting the help of her online oceanography professor from the University of Hawaii. Every clue points to the Odin research vessel and owner Kell Odin's plot to monopolize methane supplies from the ocean - despite the risks to human life that can be caused by breaching the ocean floor to extract this explosive fuel.
As toxic methane gas begins to claim lives, including Sarah's beloved brother, she risks her life to expose Odin Energy's scheme and get justice for her brother while saving the earth from an environmental crisis.
While TV documentaries cover Alaska's crab boats in action, Ms. Knopf takes the reader behind the scenes and into the lives and struggles of boat owners, crews and fishery workers in the Port City of Unalaska, during the frenetic winter crab season.
Frozen Tide also offers a glimpse into the arcane deal making of global energy producers and traders and how they promise jobs and cheap fuel to get locals to look the other way. Ms. Knopf makes the science of alternate energy sources such as deep methyl hydrate - which is being looked at by scientists -- come alive in the dialogue between Sarah and her professor, Sam Kihomi who insinuates himself into the Odin Energy's inner circle.
"It's methane. The crab suffocated to death due to an over-abundance of methane."
"Uh-huh. You told me methane isn't toxic."
"It is when it displaces oxygen. This crab choked to death on a concentrated dose of methane. And since a molting crab can't crawl into a trap, it happened onboard, above the water."
"And that's not normal, is it?"
"…at a concentration powerful enough to asphyxiate…no, it's not normal at all"
About the Author
Ren Knopf has worked with mystery writer Connie Shelton through the Long Ridge Writers Group. She also studied with authors, Steven Stern, Tatyana Tolstaya, and Pulitzer Prize winning author, Steven Millhauser.
She earned her BA Degree from Skidmore College in 1997 and a Master's Degree from Sacred Heart University in 2003. Ms. Knopf Lives in Southington, Connecticut and teaches English.
Ms. Knopf launched her journalism career in New York, with Better Nutrition and has written several short stories published in Folio literary journal before writing her first novel Frozen Tide.
Title: Frozen Tide
Author: Ren Knopf (Ren reallyscarygoose@yahoo.com)
Publisher: Arbor Books, New York, 2007
ISBN: 10: 0-9790469-8-X
Category: Mystery
Length: 264 pages
Retail Price: $12.95
Binding: 8.5" x 5.5" trade paperback
Available at: http://www.amazon.com
Review Copies:
Contact Dick Pirozzolo, Pirozzolo Company Public Relations: 781-235-9911 or dick @ pirozzolo.com
###