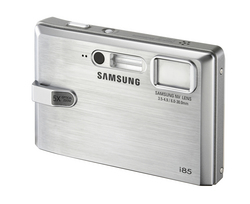 At Samsung, we take great pride in setting new standards when it comes to technology as well as our ability to give consumers new ways to integrate their lifestyles with their electronics
Secaucus, NJ (PRWEB) July 30, 2007
Samsung Camera today launched the eight mega pixel i85. Measuring 3.74"x2.42"x0.8", the i85 is roughly the size of a credit card and is sure to turn heads with a brushed silver aluminum body. An impressive, 3.0" high-resolution LCD screen dominates the back of the camera and enhances the imaging experience for end users, giving them a more detailed display to both compose their shots, review their images and enjoy video clips or movies.
Shooters will also be amazed at the quality of the lens and optical zoom that the i85 puts at their fingertips. Going above and beyond what's expected of an ultra-thin DSC, the i85 manages to pack in a non-protruding 5x optical zoom (35mm film equivalent: 36~180mm) NV lens boasting a maximum shutter speed of 1/2,000 sec and a super macro focus of 1cm.
The i85 is the third model in Samsung's digital camera arsenal to feature PMP functionality, which enables users the ability to enjoy movies, music videos, television shows and even their favorite music while on-the-go. In addition to PMP, the i85 also features Samsung's innovative World Tour Guide function, which provides travel information covering 4,500 regions in 30 countries- helping users to plan trips and find their way while on the road.
"At Samsung, we take great pride in setting new standards when it comes to technology as well as our ability to give consumers new ways to integrate their lifestyles with their electronics," said Stewart Henderson, Vice President Marketing, Samsung Opto-Electronics America. "Essentially a lifestyle accessory for the tech savvy, the i85 gives users the ability to shed the various gadgets that they would typically take with them on a daily basis, such as their MP3 players or video cameras, and simply carry one device. And with the World Tour Guide function, which we first launched with the L74 Wide earlier this year, the i85 puts a host of valuable travel information and must-see sites right in the palm of the user's hand."
When setting the camera to PMP mode, i85 users can easily listen to their favorite MP3 files or watch their favorite video content on the camera's large, 3.0" high-resolution display. The bundled Digimax Converter software seamlessly converts the user's MPEG, AVI, MOV, WMV and ASF files for viewing on the i85. For music on-the-go, the software can also convert MP3 and WAV audio files in several simple steps. The innovative software also allows users to view subtitles, adjust the screen size and crop and stretch the image to fit the screen as desired. The i85 also doesn't hold back when it comes to sound either. To listen to videos or music, the i85 features a 2.5mm headphone port as well as stereo speakers boasting SRS 3D acoustic technology.
The ultra-thin i85 also features Samsung's i-movie mode, which offers users high-resolution SVGA (800x592) MPEG-4 video and advanced editing controls. By using the camera's Successive Recording mode, users can pause, and then resume filming of video clips without having to save the clips as individual files. Additionally, users can operate the camera's optical zoom while filming and can engage a movie stabilizer to compensate for unwanted camera movement and subject blur.
In low-light situations, shooters can rest assured that their images will come out sharp and clear as the i85 is equipped with Samsung's ASR (Advanced Shake Reduction) image stabilization system and an ISO equivalent of 1600. When engaged, ASR helps to minimize the effects of hand shake and ensures that the best shots are captured even in dimly lit conditions.
Shooters can also take advantage of the camera's Face Detection mode, which makes taking pictures of family and friends a snap. Samsung's Face Detection technology detects up to nine faces and automatically adjusts focus and exposure to ensure better composition and image quality. Additionally, the i85 also features Wise Shot, which automatically takes two consecutive pictures in rapid succession -- one with ASR image stabilization enabled, and one with the flash -- and prompts the user to review both and keep the preferred version of the picture.
With 14 scene modes to choose from, including Night, Portrait, Children, Landscape, Close-Up, Text, Sunset, Dawn, Backlight, Fireworks, Beach & Snow, Café, Food, and Self-Shot, shooters can effortlessly adjust the camera and capture the best image possible in any setting. Images can be saved to the camera's 256MB of internal memory or to an external SDHC/SD card with a guaranteed maximum of 4GB.
Enabling users to further express their creativity is the "Fun" feature. This unique feature allows shooters to create a composite photo by saving up to four individual images as one. Beyond being a fun and entertaining feature, composite shot comes in handy for a number of situations, especially for use with online auction sites that limit the amount of images that can accompany an item description. As shooters can capture multiple images in one file, they can provide interested parties with a more robust display of the item they're selling without having to pay additional fees to upload more images. Additionally, with the "Fun" feature, shooters highlight an image by sharpening the foreground and softening the focus of the background, as well as customize their saved images with photo frames, stickers of various shapes, and cartoon text bubbles.
i85: $349 MSRP - available Fall 2007
Samsung Opto-Electronics America, Inc., Secaucus, N.J., is the U.S. subsidiary of Samsung Techwin Co., Ltd., Sungnam Kyungki-Do, Korea. Samsung Opto-Electronics markets a full line of auto focus cameras, zoom and digital cameras for the amateur as well as the professional under the Samsung brand name.
For full specifications and hi-res images visit the Samsung Camera website at:
http://www.samsungcamerausa.com
###