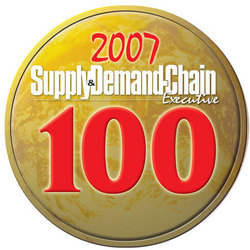 FORTE is honored to once again be recognized by and included in Supply & Demand Chain Executive 100
Mason, OH (PRWEB) July 30, 2007
Supply & Demand Chain Executive Magazine recently announced FORTE, a distribution supply chain consulting engineering firm, was elected to their sixth-annual listing of the Supply & Demand Chain Executive 100.
The Supply & Demand Chain Executive 100 is an annual list of supply chain solution providers, consultants and other organizations that are leading the way in transforming companies' supply and demand chains. This year the magazine focused the criteria for its "100" feature on the 21st century supply chain and once again identified Forte as a leading provider of supply chain services and technologies that are at the forefront of the 21st century supply chain.
"Modern supply chains must be adaptable, agile, customer-focused, global and scalable as the 'push' economy of yesterday gives way to the 21st century's demand-driven 'pull' economy. To compete successfully in this new reality, enterprises of all sizes are turning to technology and service providers like FORTE, to help them enable their '21st century supply chains,'" said Andrew K. Reese, editor of Supply & Demand Chain Executive.
The article reports that companies turn to FORTE to help design and implement new management practices that integrate supply chains. Results: Building synchronized supply chains helps these companies tailor products and services to increasingly smaller market segments and to respond to new market trends rapidly.
"FORTE is honored to once again be recognized by and included in Supply & Demand Chain Executive 100," says Gene Forte, FORTE's founder and CEO. "The judges recognized our leadership and innovation in helping companies build synchronized 21st century supply chains designed to optimize distribution network performance and quickly adapt to changing market and customer dynamics."
Based on submissions from end users and solution providers, the judging committee compiled the list of leading 21st century supply and demand chain innovators. Final recipients will be featured in the cover story of the July 2007 issue of Supply & Demand Chain Executive, as well as online at http://www.SDCExec.com.
About Supply & Demand Chain Executive:
Supply & Demand Chain Executive is the executive's user manual for successful supply and demand chain transformation, utilizing hard-hitting analysis, viewpoints and unbiased case studies to steer executives and supply management professionals through the complicated, yet critical, world of supply and demand chain enablement to gain competitive advantage. On the Web at http://www.SDCExec.com.
About FORTE:
FORTE helps our clients transform supply chains for competitive advantage. We bring world-class supply chain management expertise and advanced analytic tools to all of our engagements. We work closely with our clients to identify and implement supply chain process, layout and systems improvements that create significant business value. Our supply chain services include; assessment, planning, network optimization, 3PL strategy, distribution facility design/implementation, WMS selection, warehouse systems integration and support services.
For more information, please call 513-398-2800, or visit http://www.forte-industries.com.
###