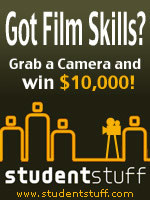 College students are the sole focus of StudentStuff.com
Los Angeles, CA (PRWEB) July 31, 2007
As students across the country prepare to go back to school, new college website http://www.StudentStuff.com is offering the chance to win $10,000 for a :30 video. Not only is that a sizeable dent in school expenses, but the winning video ad will be featured in StudentStuff.com's first television campaign. For student filmmakers, that's an impressive item to add to their résumé.
"College students are the sole focus of StudentStuff.com," said site creator, Geoff Gibson, who is a college student himself. "It sprang from my frustration when trying to find what I needed in one place on the web. Getting information on colleges was complicated and often outdated. Buying and selling on eBay was too expensive for a typical budget-strapped college kid. With StudentStuff.com, we've gathered the best features from some of the most popular websites and combined them to create a college website that gives students one unified experience. From the ability to buy and sell college books, to college chat rooms, to designated sections for musicians and artists to showcase their work, StudentStuff.com will have everything students want from an online destination."
If a student is trying to find the right college or university, StudentStuff.com's advanced search provides information on over 3,500 schools based on GPA, location and major. Students will be able to sell college books and or other items conveniently and securely to earn additional cash. The ability to buy college books through the site will also save students money. The site will also have all the social networking features that college students expect, including user profiles and the ability to blog and interact with other students either at their school, or keep in touch with former high school friends at other schools across the country. College chat rooms will also be available to keep students connected.
The site is a particularly valuable resource for college musicians, bands and artists. Musicians and bands can sell their CDs and shirts, as well as host their music in the Music Community, a dedicated section of the site. Student artists can also promote and sell their artwork in the Artists' Café.
Another exciting aspect of StudentStuff.com will be featured contests where users can win money and other great prizes. The initial contest is being used to help promote the site and give student filmmakers and aspiring advertising talent the opportunity to win not only a $10,000 cash prize, but a chance to get their work seen on the college website's first television campaign.
Contest Gives Students Opportunity to Win Cash, Exposure.
Contestants are encouraged to enter the competition at StudentStuff.com. Entrants are instructed to create a 30 second video/commercial to promote the site and show the world why StudentStuff.com is the best college website. Contestants will upload the video at the beta site, and after approval (there are some content restrictions) the videos will be hosted on the beta site. Two weeks before the official "go-live" of StudentStuff.com, voting will open, allowing users to vote for their favorite video.
The winner will be announced on the day that the website officially goes live. The winner will not only receive $10,000, but their commercial will be featured and aired in StudentStuff.com's first television advertising campaign. The site is expected to go live mid to late August, 2007.
About StudentStuff.com
StudentStuff.com is a website devoted to college students. Founded by a college student, the goal of StudentStuff.com is to be a one-stop destination for college students on the web. Features include social networking, college chat rooms, the ability to buy and sell college books and other items, and dedicated sections for student artists and musicians to showcase and sell their work. Studentstuff.com and the Studentstuff logo are trademarks of Indelible Marks Inc. All other product and company names herein may be trademarks of their registered owners.
###