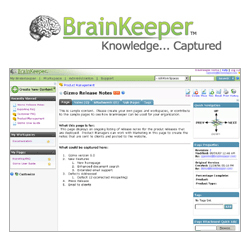 Blogs and Tagging are being used to help deliver information to external communities, but not for internal collaboration
Fairfax, VA (PRWEB) July 31, 2007
BrainKeeper has released integrated Blogs, enhanced Content Tagging, and a number of features aimed at improving adoption to its Enterprise Wiki product- a corporate collaboration solution that enables all employees to contribute key knowledge and ideas to a central, online system. For more information on these newly released features, go to http://www.brainkeeper.com/products.
"Blogs and Tagging are being used to help deliver information to external communities, but not for internal collaboration," said BrainKeeper President, Chad Ganske. "We wanted to bring the value of those Web 2.0 technologies to the corporation itself. For example, when an employee writes a Blog post in BrainKeeper about a news article, you get the distribution benefits of a Blog, and the unique, focused perspective of the author, contributors, and tags as they relate specifically to your business. Your entire company can participate in organically creating a library of customized research and ideas that can be easily tapped for a wide number of uses."
These features add value to an already strong corporate wiki tool. However, BrainKeeper has never been considered a traditional wiki. A number of barriers have prevented corporations from being successful in adopting wikis, such as a lack of structure, a lack of control over contributed content, page naming and linking limitations, and an interface that is difficult for many to understand. BrainKeeper has removed these barriers and aims to improve upon the aspects of wikis that matter most to businesses.
One of these aspects is improving the efficiency and accuracy in finding the answers to questions. To help get answers faster, BrainKeeper has utilized the Web 2.0 concept of Tagging and applied it in a way that is unique among wiki products, called Content Tags. With Content Tags, a block of text can be tagged, rather than having to tag the entire page- which means that tags can be associated with the exact content that they apply to. These tags are also searchable and search results provide a link directly to the tagged content.
Seamless Integration
BrainKeeper offers a tight integration between its features. This means that the powerful WYSIWYG content editor that is used to create wiki Pages is used for creating Blog Posts as well. Tags are available on all content items, RSS feeds are available for everything, administration is centralized, and all content can be monitored with workflow capabilities. Learning how to use new features is never an issue- everything works well together and leverages all of the aspects of BrainKeeper that businesses appreciate.
Recognized, Established Solution
Leading market research companies Forrester and Gartner have both recognized BrainKeeper as an established, notable provider of collaboration software. In addition, a number of significant, well regarded leaders in the industries of technology, education, consulting, financial management, law, healthcare and government are among the growing number of BrainKeeper subscribers.
Try it now for Free
A 30-day complete, no-obligation, free trial of the BrainKeeper Enterprise Wiki is available at http://www.brainkeeper.com/free.
Pricing and Availability
BrainKeeper Professional Subscriptions start at just $35 per month for up to 9 user accounts, and comes with the Enhanced Feature Package free for a limited time. There are no storage limitations on the content that is added to a BrainKeeper Enterprise Wiki. BrainKeeper is a hosted solution that can be setup and customized within minutes, with no involvement needed from an IT team.
About BrainKeeper
BrainKeeper is a leader in providing innovative knowledge management solutions to corporations. The BrainKeeper Enterprise Wiki is a distributed knowledge capture and management system that gives everyone in a company the ability to easily contribute to a central knowledge base. BrainKeeper inspires collaboration and helps an organization foster innovation, creativity, and ideas that can easily be delivered to the right people, right when they need it. Hundreds of business professionals from a wide array of industries have found value and success by implementing BrainKeeper into their teams, departments, and organizations. For more information about BrainKeeper, visit http://www.brainkeeper.com.
-------------------------------------------------
Copyright © BrainKeeper, Inc. 2007. All rights reserved.
###