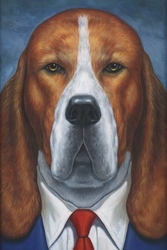 We've assembled an all-star lineup
Carlsbad, CA (PRWEB) July 31, 2007
Top Dog Sales Secrets is a new book that teaches anyone who sells vital new skills. Edited by SalesDog.com Founder Michael Dalton Johnson, Top Dog Sales Secrets serves up the selling secrets of 50 renowned sales wizards in doggie-treat-sized bites designed to supercharge sales performance.
"Selling isn't rocket science. It's harder," says Johnson. "It takes a keen knowledge of human behavior and motivations to succeed. A salesperson can learn more from Top Dog Sales Secrets than through ten years of trial and error on the job," Johnson adds.
"With Top Dog Sales Secrets salespeople will find tips for increasing their earnings by making 'naked' sales calls and saying 'no' instead of 'yes.' They'll learn the secrets of negotiating deals without cutting price, leaving voice messages that always get returned, and unique ways to break through the voice mail barrier," Johnson adds.
"We've assembled an all-star lineup," says Johnson. Authors contributing to Top Dog Sales Secrets include Dr. Tony Alessandra, chairman of BrainX.com, president of the Assessment Business Center and author of 14 books in 17 languages; Ed Brodow, who earned the title "King of the Negotiators" with his bestsellers Negotiation Boot Camp and Beating the Success Trap; bestselling author and former college football coach Bill Brooks, whose Brooks Group consultancy firm counts IBM, Microsoft, Hewlett-Packard, Ford, Bank of America, Mobil, and Home Depot among its clients; and Speaker Hall of Fame member Roger Dawson, named ''America's Premier Business Negotiator'' by Success Magazine, the author of nine bestselling books.
Other big-league experts include Jill Konrath, author of the business-reviewer acclaimed Selling To Big Companies; bestselling author Linda Richardson, author of The Sales Success Handbook and eight other books, founder and president of richardson.com; and Master Certified Coach Keith Rosen of Profit Builders, who authored bestsellers Time Management For Sales Professionals and Coaching Salespeople into Sales Champions.
The $24.95 volume can be ordered directly from the publisher or from Amazon.com and other online retailers.
About Salesdog.com
Headquartered in Carlsbad, California, SalesDog.com bills itself as the "number one destination for sales success." SalesDog.com has partnered with America's leading sales experts for the past seven years to bring practical selling tips and strategies to salespeople, sales managers, business owners and entrepreneurs worldwide. Over 25,000 sales professionals subscribe to their free weekly newsletter.
###