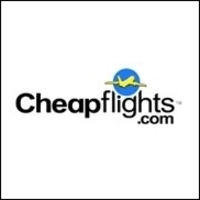 Now more than ever, we're the perfect place to start your travel planning
Boston, Mass. (PRWEB) July 31, 2007
Online travel-search provider Cheapflights.com today announced the addition of two new Web site features designed to make it easier than ever for consumers to find and book the best travel deals. Based on consumer feedback, which included focus groups and a 60-day beta test period, and partner input, Cheapflights.com officially launched its new hotel booking and flight search-by-date Web site features this week.
"We've complemented our nearly one million flight deals with the addition of tens of thousands of hotel deals, sourced from hundreds of different travel providers," said Michael Bennett, U.S. general manager for Cheapflights.com.
"Our research shows that consumers search an average of five or six travel sites to find the best deal. We help travelers to comparison shop for flights and hotels all in one place, saving them the time and hassle of clicking from site to site," he said.
In addition to a new hotel search feature, the Web site now also offers consumers two ways to search for the lowest flight deals — by destination/route, ideal for travelers with flexible travel schedules — or by date, ideal for travelers with fixed travel itineraries. Hotel and airfare partners include: Priceline, Hotwire, Travelocity, Expedia and Orbitz, among many others.
Among the deals listed on Cheapflights.com, visitors will also find handpicked deals personally selected by Cheapflights' in-house Deal Finder, plus exclusive deals not found anywhere else. Additionally, the site offers a host of travel resources and tools, including a Flight News blog (http://news.cheapflights.com/) and downloadable traveler guides and companion podcasts (http://www.cheapflights.com/travel-guide-podcasts/).
"At Cheapflights.com, consumers can quickly search hundreds of airfares — and now hotel room availability, too — from hundreds of travel different companies, all in a matter of seconds," said Bennett. "Now more than ever, we're the perfect place to start your travel planning," he added.
About Cheapflights.com
Cheapflights.com is a leading flight price search and comparison Web site listing nearly one million low-cost airfare deals from hundreds of different travel companies all in one place, saving consumers the time and hassle of clicking from site to site to find the best deals. Visit http://www.cheapflights.com for more information.
Contact:
Melissa Brenton
360 Public Relations LLC
617-585-5785
mbrenton @ 360publicrelations.com
# # #