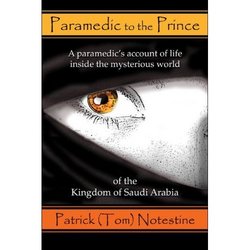 Marysville California (PRWEB) August 1, 2007
"Paramedic to the Prince" Is a non-fiction first hand account of an American Paramedic's life inside the Kingdom of Saudi Arabia. The book takes you from the Trauma of the Emergency room to the Royal Palace. Where the author was on the private medical team for Abdullah Abdullaziz Al-Saud the present reigning King of Saudi Arabia.
The Author has spent over ten years living and working in Saudi Arabia as a Paramedic. Starting soon after the first Gulf war and taking you through the events of 9/11 as seen from inside the most Fundamentalist Islamic country in the world.
Patrick (Tom) Notestine is a 1986 graduate of UCLA School of Pre-Hospital Care. He trained on the tough streets of Los Angeles where drive-by shootings, drug overdoses and multi-car accidents were an everyday occurrence. As a highly skilled Paramedic he thought he had seen it all.
Welcome to the mysterious world of the Kingdom of Saudi Arabia, one of the most fundamentalist Islamic countries in the world. Working at the countries only Level-One Trauma Center he found his knowledge and skill tested to a limit on a daily basis.
Later recruited to the medical team of then Crown Prince Abdullah Abulaziz Al-Saud, the now reigning king of Saudi Arabia. The author was drawn into a world of Palaces and Princes, Limousines and Lear-jets. His adventure had only just begun.
Starting with the events of 9/11 as seen from inside an Islamic country. The book takes you on a journey into all levels of Saudi society. From the Bedouin of the Deserts, to the Royal Palaces of the House of Saud. This book shows a western perspective of this secretive country that has never been told. A important insight into events that continue to effect the world today.
###