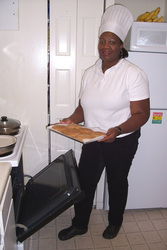 The idea for Mrs. Laughing Pants came to me one day while I was taking a shower
Weaverville, NC (PRWEB) August 1, 2007
Mrs. Laughing Pants is putting a mouth-watering spin on fundraising for the global community with her new "Sizzling Hot Jamaican Cookies."
One community helping another, both here and abroad, is the purpose of the Mrs. Laughing Pants Cookie Project and the goal of her alter-ego and creator, Annmarie Edwards.
Flour, ginger and molasses and Edwards' special blend of spices are whipped up and lovingly baked to create the delicious cookie treats, which are her secret recipe for a popular cookie in her homeland, called "Bulla Cake.
"In Jamaica, we have this cookie treat for lunch with a glass of milk and a slice of cheese," Edwards said. "Sometimes we add a slice of advocado."
The cookies sell for $1 apiece for a large cookie. They are available in smaller sizes and packaged in groups of four for retail sales.
Custom orders for Mrs. Laughing Pants Sizzling Hot Jamaican Cookies are also available.
Proceeds from sales of the gourmet cookies delight will be deposited in a trust fund for the communities around the globe Mrs. Laughing Pants will work with to help them realize their dreams of self-reliance.
"The idea for Mrs. Laughing Pants came to me one day while I was taking a shower," Edwards said. The character is used for product marketing, workforce training and business consulting.
She said the effort allows her to further manifest lessons learned in her youth.
"I have a passion for helping people. I grew up in a single parent family and my mom always helped people," Edwards explained. "People always came to her for help, even though she had five children. She was always there to help them and the more she helped, the more she was blessed."
Edwards said her mother's actions mirrored those of her grandmother, who also extended a helping hand to those in need.
"That's a really strong foundation they gave me - the importance of helping others," she said.
For more information about the cookie project, Mrs. Laughing Pants and Edwards' other services or for interviews, call 828-278-0632.
About Annmarie Edwards
Edwards is a published author, having written "50 Ways to Maximize Your Potential"",50 Tips to Energize Your Workforce," "50 Proven Strategies to Maximize Your Job Search and Intuitive Creative Journal."
The North Carolina resident is a former teacher who possesses bachelors and masters degrees in education and is currently completing a doctoral degree in education leadership.
She is also a certified International Job & Career Development Coach who, through her company Aria Training Online, serves as a research and training consultant to corporations, colleges and universities and small entrepreneurial organizations.
Contact: Annmarie Edwards
828-278-0632
Mrs. Laughing Pants' Kitchen
PO Box 786
Weaverville, NC 28787
http://www.ariaresearchgroup.com
http://onlineworkforcetraining.blogspot.com
###