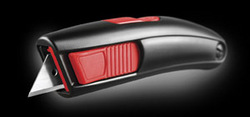 Green Bay, WI (PRWEB) August 1, 2007
The [Megasafe Safety Knife, with its spring-loaded retractable blade, is the latest Martor product that incorporates smart knife technology. The 0.63 mm thick blade is highly suitable for use with virtually any type of material. The ergonomically styled heavy-duty cutter made of aluminum, provides for perfectly controlled cutting operations - for use by right and left hand users, even when wearing protective work gloves.
This cutter features the time-tested Martor Safety Technology (MST), where the spring-loaded blade retracts instantly the moment blade edge contact is lost - even if and when the user holds on to the blade push. The safety system cannot be manipulated. It is "GS-Tested for Safety."
In addition, it is easy to change the blade; no tools are required. Previous models of this type of safety cutter required the blade to be fully extended before the safety system responded. Now, the safety system responds even if the blade is only partially extended. The slide only needs to be extended to the point where the packaged goods are safe from damage - the maximum extension is 27 mm.
The Megasafe Safety Knife will help to dramatically reduce accidents in industrial manufacturing plants and warehouses, making safety the number one priority. For more information, please visit http://www.martorusa.com.
About Martor USA
Martor USA, creators of the Megasafe Safety Knife, the blade that keeps safety in mind, have been in the business of supplying tools to industry since 1981. In that year, The Spoilage Cutter Company was incorporated in Wisconsin to sell a patented safety cutter to remove the outside layers of film or paper from a roll. This tool was called the Zepher Model 102. A few years later, a larger tool for the same purpose was developed, the Zepher 105. Then, in the early 90's we started importing several safety tools from the Martor Company in Solingen, Germany for resale to our customers. Because of the increasing demand for these tools and our growing sales of these products here in the U.S., we were awarded exclusive representation status in 1995. Early in 1999, we changed the name of our company to Martor USA, Division of The Spoilage Cutter Co., Inc. due to the further expansion of our sales of this unique line of outstanding products from Martor Solingen.
Contact:
Tommy Landwehr
Martor USA
920-662-9646
tommy.landwehr @ martorusa.com
http://www.martorusa.com
###