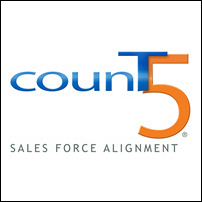 The information volume and velocity of change that health plan employees are exposed to on the job can be overwhelming
Atlanta, GA (PRWEB) August 1, 2007
Atlanta, GA August 1, 2007 -- Count5 has signed a three year software subscription agreement for Q™ OnDemand with a major life & annuity company, whose health care division serves over 2 million members. The software automates delivery of reinforcement and coaching to improve the success of customer service, claims and salesforce initiatives.
Q™ OnDemand will initially support the rollout of their new health plan administration platform. Plans are to deploy Q™ to approximately 1,500 employees nationally by year-end.
"Count5's technology is one of several investments we have made to support our employees' ability to provide consistent and accurate service delivery to our members and providers," said the AVP of Operations Training& Development. "Using Q™ OnDemand, we can continue to improve the efficiency and accuracy of our operation."
"The information volume and velocity of change that health plan employees are exposed to on the job can be overwhelming" said Eric Blumthal, Count5 CEO. "Health plan providers can use Q™ to accelerate their employees' ability to absorb and effectively apply this new information on the job. Our software can help these customers stay competitive by maximizing employee productivity and efficiency."
About Count5®
Count5® improves the speed and success of new product launches, strategies and other CRM initiatives by systematically improving workforce adoption of change. Q™ OnDemand from Count5®, is a proactive, elegant & noise-free software communications channel that inserts the daily discipline of accountability, reinforcement and measurement into ongoing communications & sales training. Unlike alternative technologies, Q™ OnDemand is proactive, prescriptive and requires no end-user training.
Count5® was recently named by the Technology Association of Georgia (TAG) as one of Georgia's most innovative technology companies.
For more information, visit us online at http://www.count5.com
###