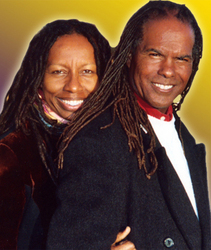 Yoga for the Young at Heart.
Ojai, CA (PRWEB) August 7, 2007
Rev. Michael Beckwith, as featured in "The Secret," and Dr. Masaru Emoto, New York Times bestselling author of "The Hidden Messages in Water," will headline the second annual "Ocean of Gratitude" Cruise to take place February 16-24, 2008 departing from Ft. Lauderdale, Florida.
Beckwith, whose gift of spiritual insight is apparent whether he is appearing on Oprah, Larry King Live, or in front of his 9,000-member congregation at the Los Angeles Agape International Spiritual Center, and Emoto, whose groundbreaking research has proven the effect of one's words on the formation of ice crystals, will give cruise-goers a once-in-a-lifetime opportunity to find out what can happen when the Laws of Attraction are amped up by the power of gratitude.
Heading toward the tropical waters of the Caribbean aboard the magnificent floating resort, the Carnival Liberty, land excursions include:

Costa Maya, Mexico, where participants can snorkel, kayak, or catamaran, relax on silky sand beaches, or visit ancient Mayan Ruins.
Limon, Costa Rica, where participants can take an aromatic coffee bean tour, visit lush floral gardens, venture into the rainforest via a wagon expedition, or soar from the canopy of the rainforest to the ground.
Panama, where participants can drum, dance and sing for gratitude and peace, along with local Panamanians in a "Rhythm of Panama Drum Circle Cultural Exchange Event under the Bridge of the Americas near the Panama Canal. This special optional event is co-sponsored by In Harmony, the first music and wellness center of Panama and facilitated by Christine Stevens.
En route to the verdant paradise of the Caribbean, participants can also:
Increase their prosperity consciousness in a "Prosperity Circle" with Christiane Schull, creator of The Prosperity Circle and author of "What You Speak is Seeking You."
Learn how to safely help their bodies release symptoms and activate their inner' capacity to heal with Dr. Darren Weissman, founder of The LifeLine Technique™ and author of "The Power of Infinite Love and Gratitude."
Reconnect to the healing power of love through transformational vocabulary, with Niurka, the mastermind of "Laws of Supreme Influence" and founder of One in Mind
Touch the heart of inner self-expression in a "SoulArt Collage Workshop" with facilitator, Eveline Marie.
Paul Ryan, Celebrity TV Host, will Emcee the Gratitude Program
Treat their bodies to "Gentle Yoga" with Susan Winter Ward, founder of "Yoga for the Young at Heart."
Experience the visionary artwork of Paul Heussenstamm, whose stunning mandala was featured prominently in the movie, "The Last Mimzy."
Send love, appreciation and gratitude to all the waters of the world in a special "Water Blessing Ceremony."
When night falls, participants will find it impossible to stay in their chairs as Ricky Byers Beckwith, the leader of the Agape International Choir, takes to the stage. The diva of soul-nourishing music will perform in concert, as well as accompany her husband, Michael Beckwith during presentations. Additionally, Christine Stevens returns from last year's cruise to rock the waters with a shipboard "Rhythm of Gratitude Drum Experience" under the stars.
Says Karol Avalon, owner of Karol Avalon Productions and event producer, "This is a rare opportunity for like minded individuals who embrace a Mind-Body-Spirit attitude to travel together, engage in powerful seminars and come together to form a conscious and gratitude community while sailing the exotic Western Caribbean. As an expression of her gratitude, Avalon is purchasing Carbon Offsets from Smart About Carbon in the name of every participant.
Sponsors of the "Ocean of Gratitude" cruise include: H2Om LLC, the creators of the world's first interactive natural spring water infused with the power of positive energies through music, words, colors and symbols; and OlaLoa, a multi-vitamin mineral supplement for energy, vitality and anti-oxidant protection, created by Richard Kunin, M.D., Orthomolecular Specialist.
The early bird registration for the Ocean of Gratitude cruise ends on August 31, 2007. For reservations or more information, please contact 800-874-1996 or visit oceanofgratitudecruise.com.
###